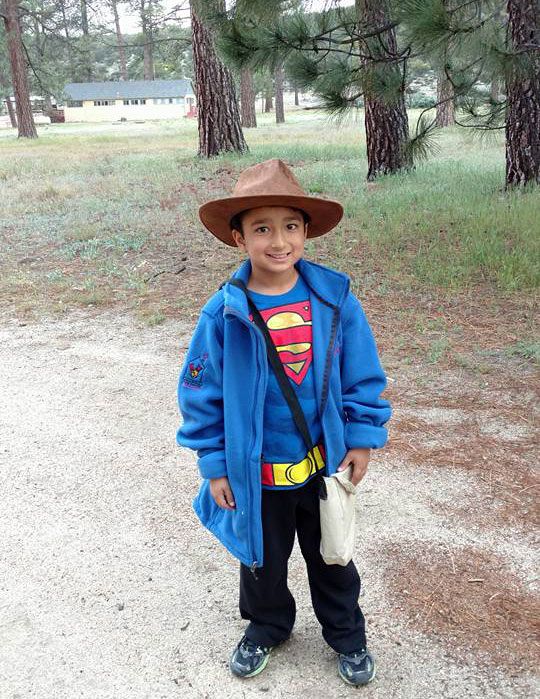 Vincent Dominguez is one of the happiest kids you'll ever meet! To know him is to love him
He'll certainly charm you with his whip & nae nae dance, his infectious giggle or big warm hugs! Thankfully that happiness did not diminish during his time battling cancer.
When Vincent was six years old and had just started 1st grade, he developed a cough. His mother Melissa wasn't worried and assumed it was due to back to school germs. The cough persisted, Vincent saw his pediatrician, an x-ray was ordered and sadly a tumor was found pressing against Vincent's lung. At CHLA the tumor was tested and they received the devastating diagnosis of stage 3 neuroblastoma. Next came surgery to remove the tumor and while it was so hard for Vincent's parents and siblings to see him in so much pain from surgery, they felt grateful the doctors got all the tumor and he would not have to go through radiation or chemotherapy. Unfortunately, after further testing it was found that Vincent had the worst form of cancer – nodular cancer with at 50% chance the cancer will return in his lifetime. Two months later, it returned and eight sessions of chemotherapy began. Treatment was every three weeks but Vincent stayed his happy self all the way through; until one treatment, he was of the 1% of children who have an allergic reaction to treatment and couldn't breathe after going into anaphylactic shock. Scared and dreading treatments, the family got through it together and Vincent's last chemo treatment finally came. He was declared cancer free in January! He will continue to be monitored and will receive MRI scans every three months for the next three years.
With Melissa and Vincent staying at the LA Ronald McDonald House during his treatments, Camp staff were lucky enough to get to know Vincent and Melissa and introduce them to Camp Ronald McDonald for Good Times. While Vincent, was ready to sign right up, mom Melissa needed a bit of convincing. Melissa said "it's scary to think of going camping while your child is in treatment, you ask yourself what if he gets sick, will he get the help he needs"? She joked "What if I see a snake"?! Entrusting in the staff, Melissa decide to go outside her comfort zone and along with Vincent, dad Robert and sister Kayla, the family went to Camp for the weekend and had the time of their lives! For Kayla, it was her first time being around other siblings who understand exactly what she's been through watching her little brother being treated for cancer. Friendships were formed, lifelong memories were created and the Dominguez Family became part of the Camp Ronald McDonald Family!