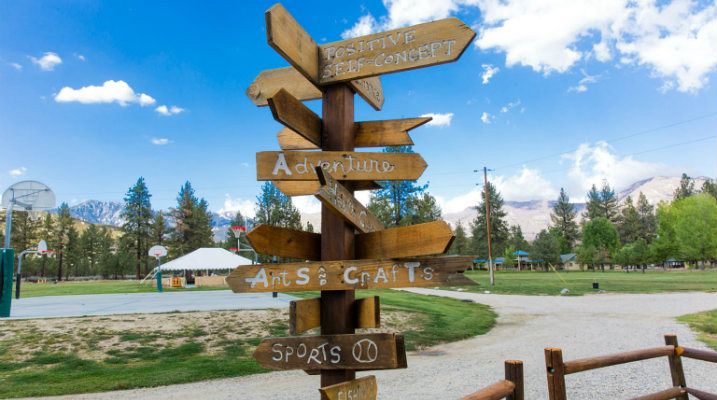 Nestled in the San Jacinto Mountains of Southern California, Camp Ronald McDonald for Good Times campsite is a few miles from the scenic town of Idyllwild.
Our facilities, Apple Canyon Center, are designed specifically for our campers; enabling guests to enjoy the magic and beauty of a wondrous wooded hideaway while being only minutes away from comprehensive medical facilities and services. Surrounded by U.S. Forest Service land, the campsite provides majestic mountain views, open meadows and stately 100-year old pine trees. It's a perfect place to relax, have fun and regenerate your spirit.
Pondside Village, newly completed in fall of 2012, This new village features five 1,210 sq. ft guest cabins that can accommodate 12 people each. Each cabin has complete handicap access, privacy curtains for each sleeping pod, large windows with privacy shades, high wood ceiling with ceiling fans and large clearstory ceiling windows that open for additional ventilation. The cabins are fully heated with two full bathrooms in each cabin, private toilet rooms and spacious handicap accessible shower rooms. Each cabin looks into the village and has a rock sitting porch for getting to know new and old friends.
In the center of village is a 950 sq. ft. activity cabin that can host 12 - 40 people for year-round meetings, classes, day and night-time activities.The activity building has four large "garage- type" doors that open the side walls on warm days and beautiful nights expanding the space to accommodate even more people. The activity building has its own restroom for guests, buffet sink with refrigerator and microwave for coffee and snack service, and a large storage room for chairs, tables and supplies. As with the cabins, the activity shelter has high wood ceiling with ceiling fans and large clearstory ceiling windows that open for additional ventilation. Also in the center of the new Pondside Village there are handicap access trails to each building, center grass area and a village campfire ring with log benches.
Twelve rustic cabin dorms each accommodate 8-10 camper and 2-3 counselors. All cabins are equipped with screen doors, carpeted floors, bunk beds, electricity, heating and have restrooms with shower facilities attached or nearby.
Our AS&F Dining Hall and Activity Center, compelete in 2015, features full dining room and profession food service kitchen; Fellowship Activity Hall with fireplace, audio and visual media room; and meeting room.
The Roosevelt Meeting Lodge, originally built in the 1940's and most recently renovated in 2000, features central heating and air conditioning, eating or meeting facilities for up to 200, an outside dining or meeting porch, a fireplace, and restrooms . Attached to the dining lodge is our Billy Foreman Kid's Instructional Kitchen activity.

The "Med Shed" health care center, equipped with a state-of-the-art healthcare center, the Camp "Med Shed," was specifically designed to serve the needs of our campers impacted by cancer. The Med Shed provides areas and equipment to support your child's health needs while at Camp including an examination room, resting and sleeping areas, a medication dispensary and the Catheter Care Cabin. Should additional support be needed, transportation can be quickly arranged to nearby Loma Linda University Medical Center or the patient's home hospital.
Fun facilities are available at camp to provide experiences of fun, accomplishment and memories:
Two Group Campfire Areas
Art/Crafts Porch
Horseshoe Pits
Basketball Court
Volleyball Court
Challenge/Ropes Course
Kid's Cooking Class Kitchen
Soccer and softball playing fields
Costume room
GA-GA court
Archery range
Miles of hiking trails
Fishing pond
Other fun facilities available May through October:
Heated Swimming Pool
Carnival Activity Tent
Outpost Village
Horse corrals and riding rings