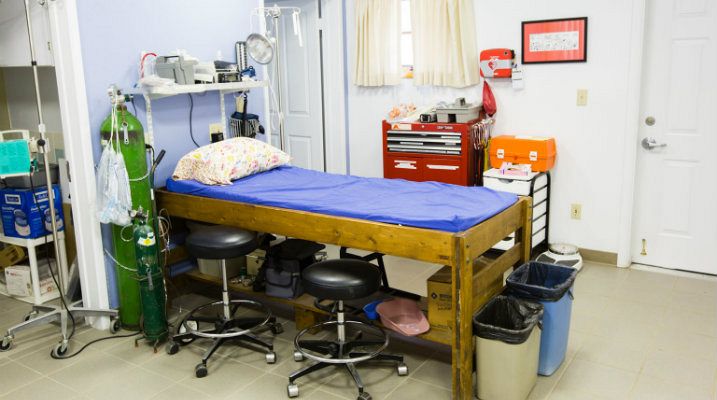 We could not provide the medically supervised experiences our campers and families need without quality doctor and nurse volunteers. We are always looking for doctor and nurse volunteers to join our Camp family.
Our Camp Med Shed team supports Camp health and wellness by providing a safe healthcare environment for all those who participate in the Camp programs: patient campers, sibling campers, Family Camp parents, Camp Staff, and volunteers.
What do volunteer doctors do?
The Camp Doctor oversees all medical situations that may arise in the Camp population, supervises all medical procedures, prescribes medication and treatments, and reviews the orientation of Camp program staff on the specific care needs of attending campers. The Camp Doctor, along with the Camp Charge Nurse and Camp Director, is a Camp Emergency Response Team member.
What do volunteer nurses do?
Camp Charge Nurse: The Camp Charge Nurse's responsibilities begin with the camper application review before the camp session along with the Camp Doctor. The Camp Charge Nurse also briefs and orients Camp program staff members on the specific care needs of attending campers, oversees the organization, administration, and documentation of camper and staff medications, and responds to camper and staff drop-in visits. If a camper requires care beyond the scope of Camp, the Charge Nurse coordinates with the Camp Director and Camp Doctor to secure transportation and treatment.

Camp Nurse: Camp Nurses provide treatment as directed by the Camp Doctor and care for campers. Routine tasks include daily dispensing and documenting camper and staff medications, support and supervision of camper central venous catheter care, and responding to camper and staff drop-in visits for everything from splinters, fevers, and tummy aches to potentially serious accidents or illnesses.
What requirements are in place for COVID-19 (vaccination requirements, testing, etc.)?
All volunteers must be up-to-date on their COVID-19 Vaccination status & submit proof. We also require proof of a negative result of a COVID test before coming to Camp. You can read more about these and our other protocols in place for summer on our Health & Safety Information page.
How many days do I have to attend as a volunteer?
We ask medical staff to commit to a minimum of volunteering two days for our Summer Camp sessions. Summer Camp can be as many as seven days. We ask for a three- to four-day volunteer commitment for our Spring, Fall, and/or Winter Camp weekends.
Where is the Camp?
Our campsite is located on the pine-filled slopes of the San Jacinto Mountains. Just west of Riverside and east of Palm Springs, the facilities sit on 60 acres with flat meadows and surrounding Ponderosa Pines at an elevation of 4,500 feet.
What are the sleeping accommodations?
Sleeping accommodations are provided in our Med Shed complex. Nurses may share a sleeping room with one to four other nurses. Our physicians have smaller single or double rooms. Our Med Shed cabins have single camp beds, and shared or private bathrooms with showers, electricity, and central heating. Staff is asked to bring bedding (pillow, sleeping bag, sheets, and blankets). If staff does not have bedding, a camp sleeping bag, pillow, and towels will be made available.
Can I bring my spouse/children to Camp?
Doctor and nurse volunteers are essential for our campers' care and our parents' comfort. We also appreciate that as a camp doctor or nurse you are performing the same service you do every day at work. To show our appreciation, we welcome doctors and nurses to invite their spouses and children to Camp. If your child(ren) are of camp session age you can choose to have them participate as a camper. Your child(ren) will be assigned to a cabin, live and sleep with their cabin mates under the supervision and leadership of our cabin counselors and participate in all activities as a camper for the entire week. If children are not of camper age or choose not to be assigned to a cabin, we ask that they are always under the direct supervision of a parent of a family adult.
How do I apply to be a Camp Doctor or Nurse?
Click here to complete a Volunteer Doctor / Nurse Application.
What do other colleagues say about Camp?
Click here to find out what your colleagues say about their Camp Ronald McDonald for Good Times experience.
When is the best time to refer my patient to Camp?
In 2004, Camp Ronald McDonald for Good Times partnered with Children's Hospital Los Angeles and the UniHealth Foundation to conduct a Camp Awareness Study. The study's findings indicated that parents are interested in sending their children to Camp during maintenance treatment.