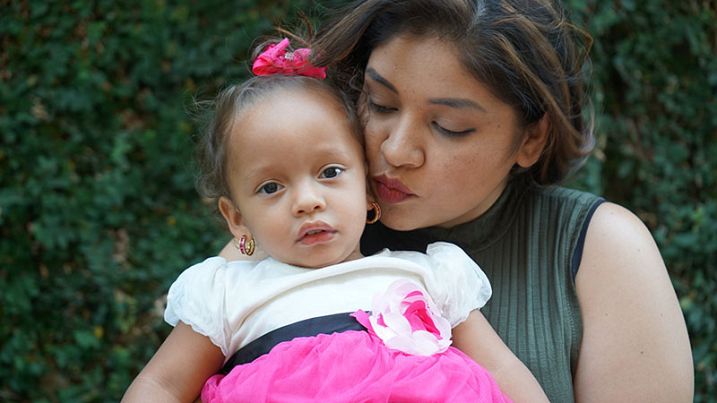 Khaylie has been in a fight for her life from the day she was born.
Premature — and suffering from Amniotic Band Syndrome, lung failure, and heart disease — Khaylie's doctors in her home-country of Belize feared the worst. But Khaylie's parents, Jessica and Larry, refused to give up.
One night, Jessica and Larry saw an ad for Shriners Hospital for Children in Los Angeles and knew there was hope. If Khaylie could fight, they could, too.
Khaylie's doctors recommended a series of intensive treatments at both Shriners and LAC-USC Medical Center. They also told Jessica and Larry about a vital resource for families like theirs, a "home away from home" that would enable them to make the long journey and get Khaylie the care she needed: the Los Angeles Ronald McDonald House. More than 2,500 miles from family and friends back home, the House has been a true lifeline for Khaylie, her parents, and her four year-old brother, Khaylen. Nutritious meals. Cozy rooms. Fun family activities. Even therapeutic support from trained staff. The Los Angeles Ronald McDonald House has helped relieve so much worry for Jessica and Larry during the most difficult period of their lives.
Most importantly, the House has kept their family together, confident they're giving Khaylie all the love and care in the world. As a parent, Jessica feels stronger with her husband and kids by her side. She calls the Los Angeles Ronald McDonald House a blessing, a place of peace and support where she can focus on her daughter's well-being without worrying about hotel or meal costs.
Khaylie recently celebrated her second birthday at the House. It feels like time is flying by. Khaylie and her family are ready to tackle any new obstacles that come in their path, and all of us at the Los Angeles Ronald McDonald House are with them every step of the way!