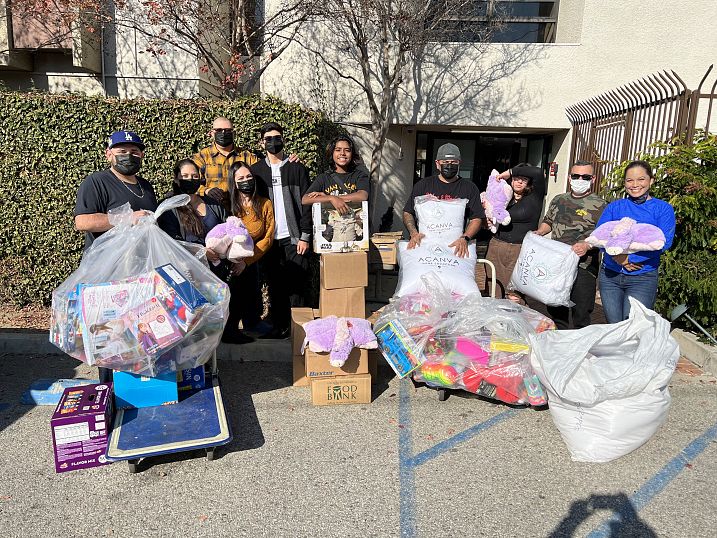 Help directly support the families staying with us, even when you can't make it to the House!
Help directly support the families staying with us! Donate a meal, host a wish list drive, pack kits of snacks or comfort items, write cards, or donate your pull tabs! These options are great for large groups, young volunteers, and others who cannot make it onsite for a volunteer activity.
Meal of Love Sponsorship - Get a group together to purchase a meal from a local restaurant or store, and have it delivered to the House for families to enjoy.
Qualifications: Reserve a breakfast, lunch, or meal spot with our team, and arrange to have meals dropped off at one of our buildings. All meals must have been made in a commercial kitchen; please – no homemade food. See our FAQ for information on how to sponsor a meal.
Wish List Drive - Make sure our families have everything they need to feel at home by collecting and donating our most needed items.
Qualifications: Simply collect the items from our wish list and email us to set up a drop-off time at the House from 9:00 am to 7:00 pm, or utilize our Amazon Wishlist to purchase items to be delivered directly to our door. Please see our Wish List webpage for our current needs.
Items should be dropped off at 1250 Lyman Place, Los Angeles, CA, 90029.
Made with Love Kits - Get a group together to purchase materials and assemble kits with important items for families. Themes can include snack packs, stress relief kits, laundry kits, comfort and activity kits for parents or kids, or celebration bags. Gather the items, pack the kits, write encouraging notes, and deliver them to the House so that families can grab a bag to make their day a little easier!
Qualifications: Work with our team to identify our current needs, quantity needed, and coordinate drop-off times.
Cards of Encouragement - Create cards for holidays and send them to our House to be given to families to help make their stay special. This is a creative, low-cost activity that is great for younger children.
Qualifications: Work with our team to choose a special day to create cards for, and coordinate your drop-off.
Pull Tab Donation – Save your soda tabs and send them to the House for us to recycle. Every tab makes a difference and helps us raise money to continue supporting our guest families.
Qualifications: All pull tabs should be dropped off or sent to
c/o Volunteer Manager
1250 Lyman Place
Los Angeles, CA 90029
Contact our Volunteer Manager to set up an
offsite activity or get more information.