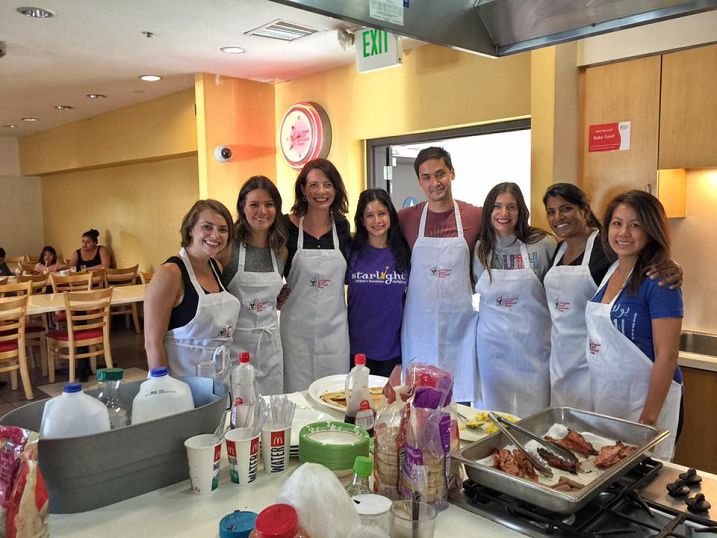 Group Volunteers consist of groups of friends, families, corporations, civic or religious groups and lead an array of activities for the families of the Los Angeles House. Volunteering groups provide families with an opportunity of respite during a highly stressful time.

Thank you for your interest in becoming involved! The support of volunteers is crucial for maintaining our programs and services.

Out of concern for the health and safety of our guests, staff, and volunteers, we are currently taking measures to restrict the number of outside visitors to our facilities.
We are temporarily halting all on-site volunteer programs, including service projects and Meals of Love.
If you would like to arrange the delivery of non-perishable food for our pantry, grocery gift cards or individually prepared meals for the families staying with us, please contact us for a list of local options.
If you or your group are interested in receiving information about future volunteer opportunities,
please email our Volunteer Manager
Get Involved

Meal of Love
The meals you provide bring love into the House, allowing families to unwind, de-stress, and fortify their bodies to be at their best for their child in the hospital. Groups of up to 15 people (or 20 people, if there is an activity included) choose a menu, purchase the ingredients, and prepare the meal in our full-service kitchen, allowing families to find nourishment and comfort in a shared meal. Breakfast is served daily at 9:00 am, dinner is served daily at 6:00 pm.
Qualifications: Show off your creativity and cooking skills (or just practice!). We supply the kitchen and equipment, your group just needs to bring the ingredients. All food must be prepared and cooked on-site or brought directly from a commercial retail kitchen. Maximum of 15 volunteers, including chaperones.
For questions regarding hosting a Meal of Love, please view our FAQ sheet here.
Day of Service
Days of Service are great for companies and groups with more than 15 volunteers or groups that are unable to volunteer offsite. Host a day where your team organizes various items to provide support for the families of Los Angeles Ronald McDonald House. Some projects include; deep cleaning of communal spaces; helping organize and sanitize our kitchens & Playrooms; working on gardening projects; or even organizing our garage!
Qualifications: Get ready to get dirty! We supply the space and cleaning supplies, your group just needs to bring a desire to serve. Maximum 30 volunteers including chaperones.
Location: Los Angeles Ronald McDonald House
Commitment: 3 hours Minimum.
Minimum Age: 15+ with adult supervision - 1 adult per 2 youth volunteers
For more information, please contact Volunteer Manager by sending an email.