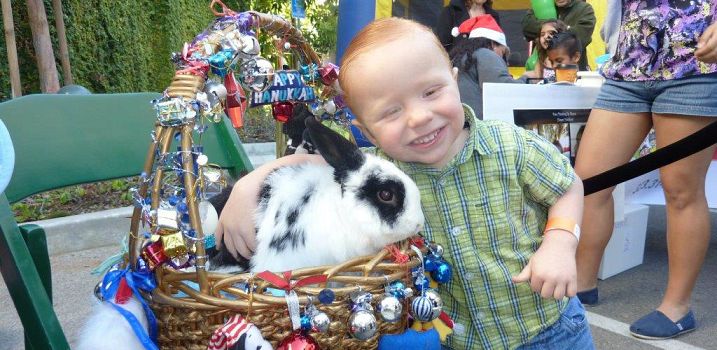 Although most pet therapy animals are dogs, Marcy knew that Oreyo was different. He had all the qualities needed to be universally loved. He had a great personality and was calm around kids, dogs, miniature horses, other rabbits, and many other types of animals.
As a registered Pet Partner Team with Paws4Healing and Pet Partners, and a certified R.E.A.D. team, Oreyo and Marcy had to go through a variety of tests and screenings. These tests evaluate how animals react to loud noises, people touching and petting them, and their responses to other animals. Oreyo received the highest rating of "complex" which meant he was certified to serve in any facility, including libraries and schools. Oreyo also visited a local assisted living facility, but he especially loved kids and loved being at the Los Angeles Ronald McDonald House.
Being a rabbit made him more approachable to people who were afraid of dogs, so even young children were not afraid of him. Many people have never seen a rabbit before or had the opportunity to pet one. Animals are not judgmental and they offer unconditional love. It makes people feel good when they pet an animal, and it allows them to step back from whatever is going on in their life, if even for a brief moment. When people are with animals, it helps to calm them down and lowers their blood pressure.
Even though Oreyo is no longer with us, his gentle spirit and kindness left an impact on the children and families we serve that won't soon be forgotten. He brought smiles to the faces of everyone who met him. He came to the Los Angeles Ronald McDonald House many times throughout the years, and even sat in his own decorated basket for holidays!
For information on how you can help the Los Angeles Ronald McDonald House provide families of critically ill children with lodging and support programs, please call us at 323-644-3000.