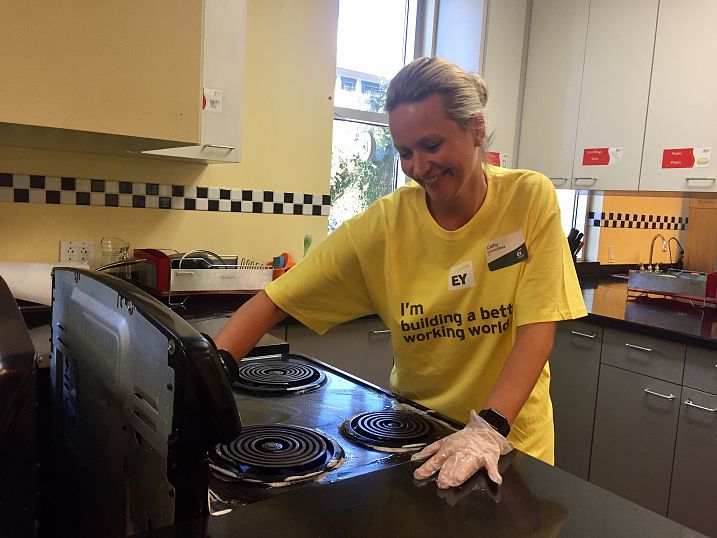 Help us provide a comfortable, clean, and welcoming "home-away-from-home" for our families through volunteering.


We are excited to welcome volunteers back to our House in-person and have new guidelines in place in order to protect the health and safety of our guest families, staff, and community. We are also able to offer a variety of offsite volunteer activities for groups to participate in.
Thank you for considering the Los Angeles Ronald McDonald House for your volunteerism and time. We greatly appreciate your interest! The generous support of community members like you is crucial to maintaining our programs and services and continuing our mission of providing comfort, care, and support to families during their greatest time of need. We look forward to welcoming you to our "home-away-from-home."
Please see sections below for more information about volunteering.
If you or your group are interested in our volunteer opportunities,
please contact our Volunteer Manager

Individual Volunteers
Help us support the families of the Los Angeles Ronald McDonald House by giving your time on a regular basis. Individual volunteers help us on a regularly scheduled basis with light housekeeping and administrative tasks. (We do not offer short term or summer only volunteer opportunities).
Offsite Volunteers
Help directly support the families staying with us! Donate a meal, host a wish list drive, pack kits of snacks or comfort items, write cards, or donate your pull tabs! These options are great for large groups, young volunteers, and others who cannot make it onsite for a volunteer activity.
Volunteer Group
Bring your coworkers, classmates, or friends together to cook meals, host activities, complete a service project, or perform an offsite activity to provide resources for our families. Onsite groups limited to 10-12 volunteers, depending on activity.
Corporate Volunteers
Volunteer work provides companies and employees with hands-on perspective on the good they can accomplish through corporate citizenship, and allows employees to come together for team building. Join us with your team for a day of volunteerism!
Please note: We are unable to accommodate court-ordered community service or probation-based service hours.