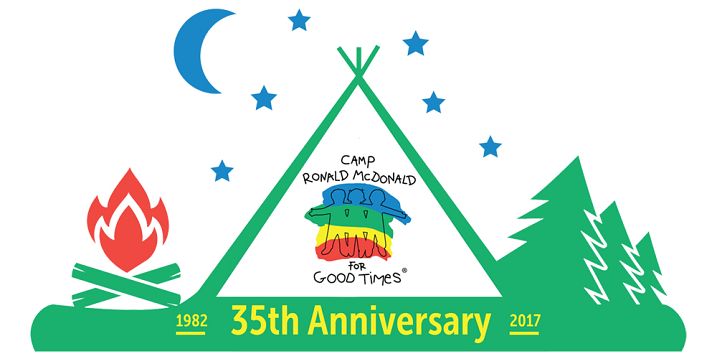 1977 Southern California Children's Cancer Services, Inc. (SCCCS) is formed to provide aid and comfort to children with cancer and their families
1980 The Ronald McDonald House of Los Angeles opens providing a home-away-from-home for the families of young patients being treated at nearby Children's Hospital of Los Angeles.
1982 APRIL - Camp Good Times is founded to provide a residential camping program for children with cancer.
AUGUST - 60 children from three hospitals experience the first "Camp Good Times" summer camp session in Malibu.
1983 Camp Good Times makes plans to build a year–round camp facility to serve children living with cancer, Actor Dustin Hoffman and singer Michael Jackson make generous contributions becoming Camp's Founding Fathers.
1984 FEBRUARY - 85 children attend the first Winter Camp session.
JUNE - McDonald's Operators' Association of Southern California (MOASC) pledges to support the Camps effort and the Camp is renamed to Camp Ronald McDonald for Good Times®.
1985 JANUARY - Camp is featured in Reader's Digest and catches the attention of President Ronald Regan. Camp becomes one of the President's public charities.
Campers from Israel, France, England and Belgium travel to attend summer camp sessions.
Michael Landon films a two part episode of the popular TV Series "Highway to Heaven" featuring Camp and uses campers in key roles. The episodes "A Song for Jason," airs on NBC as is seen my 25 million people.
1986 Children with cancer travel from Canada, England, Israel and Yugoslavia attend summer camp sessions.
1987 JULY 15 - Spanish speaking children and their families attend the first "Campamento Familiar" Spanish-Speaking Family Camp weekend.
Campers with cancer travel from England, Belgium, Germany, Israel, Yugoslavia and Hungry attend summer camp sessions.
1988 OCTOBER - 17 campers and their families attend first English-Speaking Family Camp weekend.
1989 NOVEMBER - 77 Brothers and sisters of cancer patients attend the first Sibling Camp weekend.
Children with cancer travel from U.S.S.R./Russia and Norway to attend summer camp sessions and are visited by President and Mrs. Reagan.
1994 SEPTEMBER – The charity purchases 59-acre camp facility in the San Jacinto Mountains, Riverside County to support the growing need for children with cancer and their families.
1997 Camp opens new "The Med Shed", a 3,200 sq. ft. state-of-the-art health care facility to support the medical needs of campers with pediatric cancer.

2005 Camp research study "Psychological Impacts of a Camping Experience for Children with Cancer and Their Siblings" is published in the PSYCHO-ONCOLOGY JOURNAL
2012 OCTOBER - Camp opens new Camper Village that includes year-round activity building and five fully handicapped accessible camper cabins the can serve 60 children with cancer and their family members.
2015 JUNE – Camp opens the AS&F Dining Hall and Activity Center. With help from the L.A. Kings hockey team, the Center provides dining facilities to serve 250 campers, professional kitchen and the Don & Lorraine Freeburg Foundation Fellowship Hall and meeting room.
2017 AUGUST- Camp welcomes more than 400 attendees at Apple Canyon Center, to celebrate 35 years of healing at Camp Ronald McDonald for Good Times. A full of monkey's fists making, archery shooting, reunion, laugher and love.