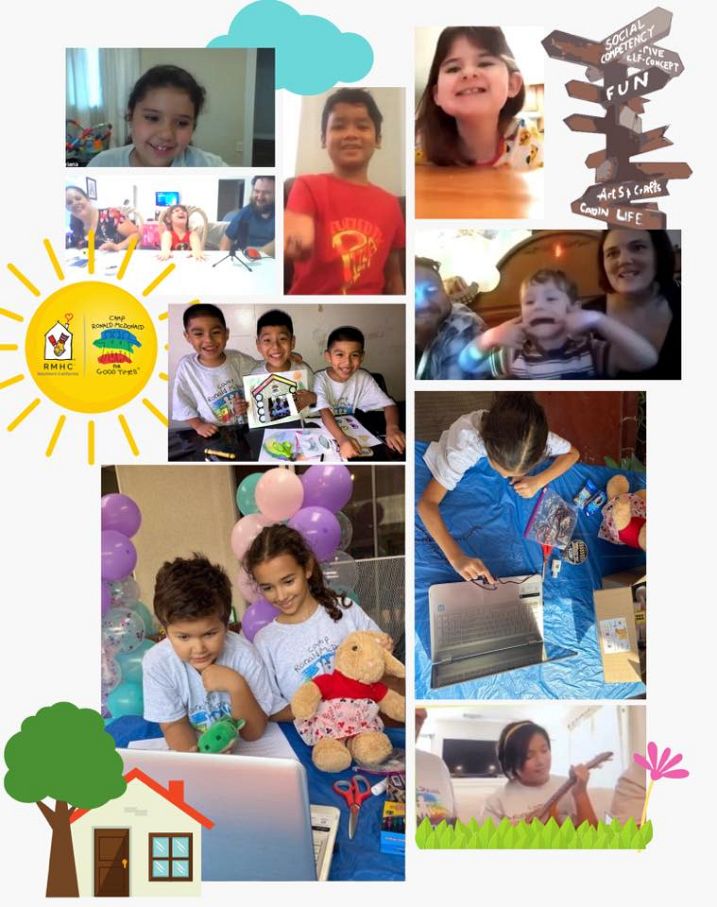 Family Camp at Home / Campamento Familiar en la Casa
Eligibility: Open to current Camp families with an oncology patient between the ages of 0-8 years old, and ALL new families are welcome, regardless of the age of the oncology patient.
Family Camp at Home Important Dates:
March 8

Family Camp
Registration Opens!
April 30-May 2

Family Camp Session

May 14-16

Campamento Familiar
Session
What is Family Camp at Home?
Family Camp At Home is comprised of two parts:
Family Camp in a Box
Family Camp Online
Family Camp in a Box is just like it sounds. It's a box filled with all the fun stuff from Family Camp and materials families will need to participate in Family Camp Online.
Family Camp in a Box will include:
A limited edition Family Camp Shirt for all family members & other camp swag!
Supplies you will need for fun Camp games & crafts
All the ingredients for our very special Cooking Class!
More surprises!
Family Camp Online will be our way of bringing the fun Family Camp activities into the home! These will be LIVE activities and programs led by our amazing volunteer Camp Counselors! Your Family will be able to engage with fellow camp families and chat with some of their favorite Counselors from Camp. Some details about Camp Online:
Family Camp Online will kick off with an Opening night activity on Friday evening and end on Sunday afternoon with a closing.
There will be various Camp activities offered throughout Saturday and Sunday.
Most activities will be designed for all ages & for the entire family but there will be a few activities that are age specific…and some only for parents too!
Your Family can sign up for as many as you wish each day!
Family Camp Online Activity Sign-ups: Closer to your Family Camp at Home session we will send out a sign-up email so the Families can sign up for the activities they want to attend. We will be sending this email out to everyone who registers for Family Camp in a Box…so don't miss that step!
How Do I Register My Family?
Registration for the Family Camp in a Box portion of Family Camp at Home opens March 8th. Simply click on the button below to visit our registration system to register! Please register ASAP so we can get an accurate count for Camp in a Box supplies!

Register Now!
If you have ANY questions at all about Family Camp at Home or the registration process, please contact Jasmin Joya, Family Relations & Recruitment Manager, at [email protected]