On June 13th, Los Angeles County Supervisor Sheila Kuehl presented Camp Ronald McDonald for Good Times with a commendation for the program's 35 years serving children and families in our region.
With a piping hot s'more in hand, Supervisor Kuehl shared the following:
"S'More. This is an amazing American tradition, every kid loves a good s'more, but for just a moment, I want you to imagine not just this s'more, but 21,000 s'mores lined up end to end. That many s'more would stretch for two long miles. And I want you to imagine that each of those s'mores is held and will eventually be eaten by a child at Camp Ronald McDonald for Good Times. For over 35 years, Camp Ronald McDonald for Good Times has been providing s'mores and other amazing summer camp experiences for tens of thousands of children with cancer. They've been on the forefront of designing medically supervised camp programs that respond to the special needs of the pediatric oncology community. This camp is free. It provides a medically supervised healing environment for young people facing the challenge of their lives. Please join me in recognizing three and a half decades of comfort, care, and support for children and families in Southern California provided by Camp Ronald McDonald for Good Times."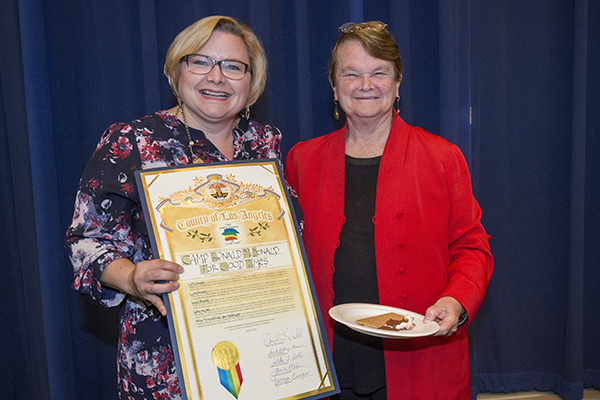 Executive Director Sarah Orth was on hand to receive the commendation and the s'more (seen above with Supervisor Keuhl, Los Angeles County Board of Supervisors).