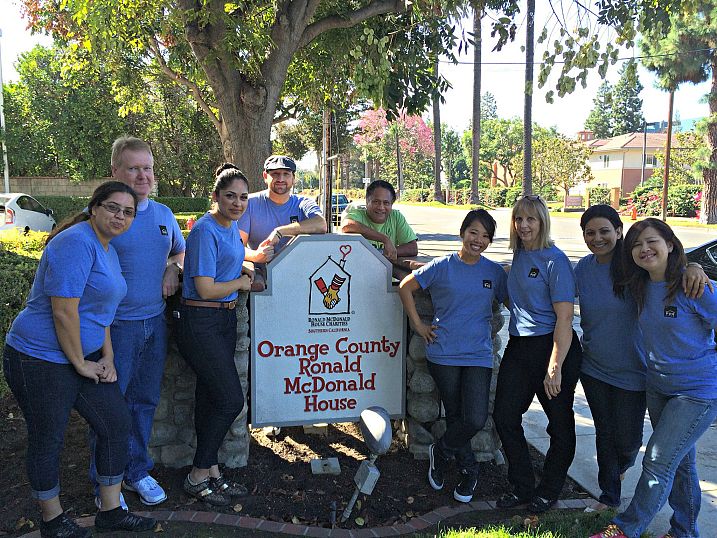 Many socially conscience companies encourage and allow employees to use working hours to make a difference- why not spend your valuable time with Orange County Ronald McDonald House?
Did you know many companies offer "Dollar for Doer" or matching time programs? This is where your generous time is matched by a grant from your organization, so you'll be doing double the good! Inquire on your company's policy with your Human Recourses or Social Responsibility representative. Orange County Ronald McDonald House Tax Id- 95-3167869.

Meal of Love
Meal of Love is a program at the Ronald McDonald House Orange County (RMHOC) where individuals and community groups sponsor dinners for our guest families. Dinners are the only options for Meals of Love and only on Mondays, Wednesdays, and Fridays.
Qualifications: All food must be catered from a commercial retail kitchen that is regulated by the health department. A maximum of 2 volunteers are allowed to attend the meal, but attending the meal is not a requirement.
Location: Placentia Hotel (details provided at sign up)
Commitment: Scheduled date to cater a meal
Minimum Age: 13+ with adult supervision
By choosing to participate in this activity you will agree to a cancelation fee of $150.00. This fee will be charged if the meal is canceled within 48 hours of the meal and/or if the group does not show up for the meal without notifying the House prior to the meal. Please review the following form for details.
To register and see available meal dates, please

Onsite team building activities are great for companies with more than 12 volunteers or groups that are unable to volunteer offsite. Host an event where your team organizes various items to provide support for the families of Orange County Ronald McDonald House. Some projects include; making blankets, toys, goody bags, or get well cards.
A representative from our organization will be available to attend the event and host a presentation showcasing Orange County Ronald McDonald House and the effect your team's volunteerism has on our organization.
Contact our Volunteer Manager, Johanna Folkes,
at 714-639-3600 or [email protected]
to schedule and learn more about these volunteer opportunities.

Positive Notes Project
While the House is under construction, RMHOC will be giving snack bags to families. Families are staying at a local hotel which RMHOC is paying for. Inside each snack bag is a Positive Note, so every family gets an encouraging surprise! (When not under construction) We also place a Positive Note in each room at the House, so every family checking in receives a hopeful message.
Can you help us? All you have to do is write an encouraging thought, motivational quote, personal message, or even draw a picture. Here are the steps to help:
Download the Positive Note template
Print the PDF double-sided and in color, if possible
Cut paper in half, down the grey line
Write in your positive message or draw your picture
Once complete, please call to schedule a drop off date or scan it to the Volunteer Manager at

[email protected]
Thank you in advance for your support in helping us spread encouragement!


Contact our Volunteer Manager, Johanna Folkes,
at 714-639-3600 or [email protected]
to schedule and learn more about these volunteer opportunities.