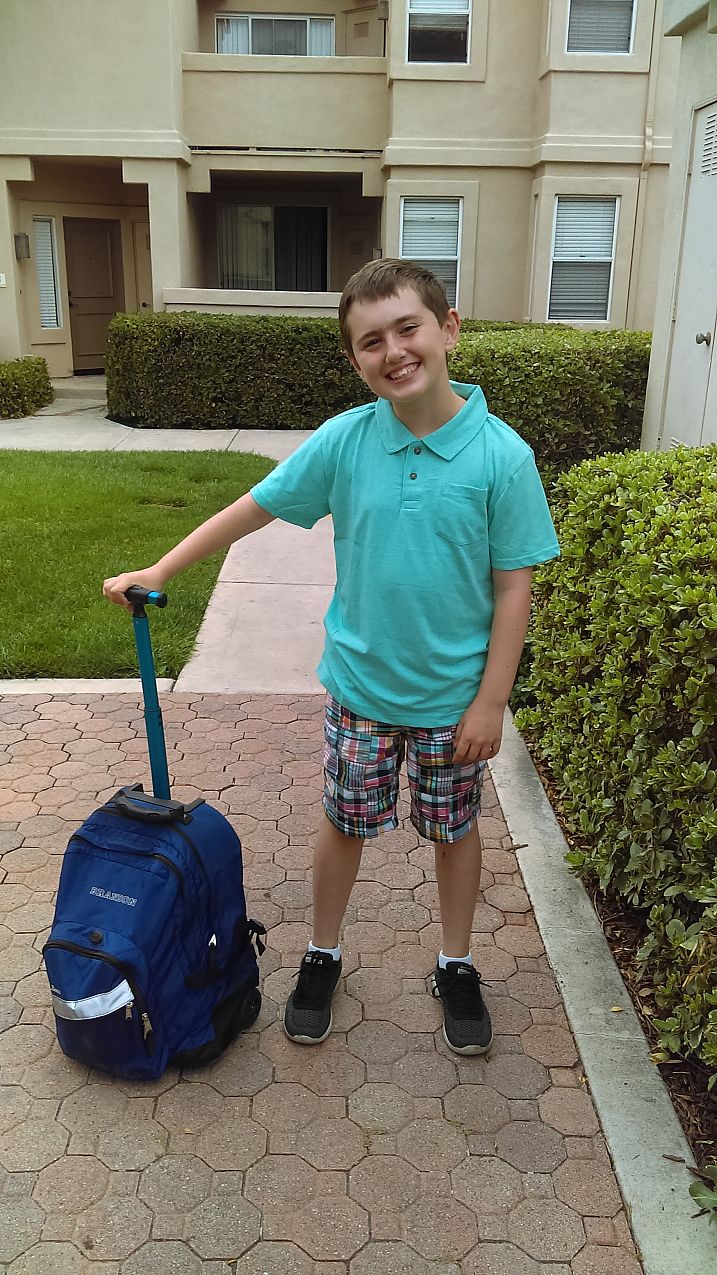 When Brandon was ready for a new heart, the Los Angeles Ronald McDonald House here to keep his family close.
Even under the best of circumstances, moving across the country with a young child can take a serious toll on a family. Simple things get thrown into flux; parents worry about how their kids will adjust to a new school, about their ease at making new friends. But when the child has a congenital heart condition, it adds another layer of stress and uncertainty to what should otherwise feel like an exciting family adventure.
Several years ago, Aimee and her 10-year-old son Brandon relocated from their home in Connecticut to a neighborhood in Orange County. Brandon was a loving, outgoing boy, but he had a unique condition that set him apart from most children his age: When he was born, Brandon was diagnosed with Tetralogy of Fallot, a rare heart disease that required him to undergo immediate open-heart surgery.
The procedure was a success but Aimee knew that one day her son would eventually need to undergo a second operation to install a new, larger bio-synthetic valve in his heart. When the family decided to move to California, it suddenly presented a new, urgent question: Who would treat Brandon when the time came for his inevitable follow-up surgery?
Shortly before leaving Connecticut, Aimee spoke with Brandon's cardiologist, who referred the family to a cardiothoracic surgeon at CHLA, Dr. Starnes. A few years later, Brandon began feeling pain in his chest and knew it was time for a new heart valve. Aimee says that despite preparing for this day, watching her son undergo open-heart surgery for a second time was a frightening prospect.
"After a couple of years, Brandon's original operation seemed like a bad dream. Once we met with Dr. Starnes and realized the surgery needs to take place within a few months, I felt the apprehension and uncertainty similar to the first open heart surgery as an infant, coupled with the fact that my son is now 10, fully aware of what will be taking place, and experiencing anxiety about the upcoming procedure."
Aimee felt confident about the quality of care Brandon would receive at CHLA — Dr. Starnes is one of the best cardiologists in the country. But the circumstances surrounding this operation would be very different from Brandon's first procedure. For one thing, Aimee's extended family was no longer around the corner from the hospital. And although Brandon's surgery would take place at CHLA, it was still a long way from their home in Orange County. Most importantly, Brandon wanted his parents with him during his hospitalization.
Fortunately, Aimee was made aware of the services the Los Angeles Ronald McDonald House could provide when they scheduled the surgery, since Brandon was expected to be hospitalized for 5-7 days. Located directly across the street from the hospital, the House gave Aimee and Brandon's dad a place to shower, wash some clothes, or cook a quick meal. And since the hospital only had accommodations for one parent to spend the night, the House ensured Brandon's mom and dad were always by his side.
"It's definitely a comfort and a huge convenience for families with children with serious needs needing treatment at CHLA. The people were so friendly and from all walks of life. I didn't have to worry about toiletries, laundry detergent, parking, refrigeration, cooking appliances…the simple things were taken care of and provided. They even had a quiet reading room, a TV room with movies and games, toys, and play spaces indoors and out. It is truly a remarkable place and a blessing for the families who have a sick child needing treatment at CHLA."
Once again, Brandon's surgery was a complete success. Within five days of his operation, he was home recovering and back to being a kid again. Aimee describes her son as a funny and dramatic "old soul," who loves jazz, fedoras and Frank Sinatra, technology, swimming and riding bikes with his friends. Most of all, Brandon is a warm, caring child who loves to help those around him…no surprise given his special heart.