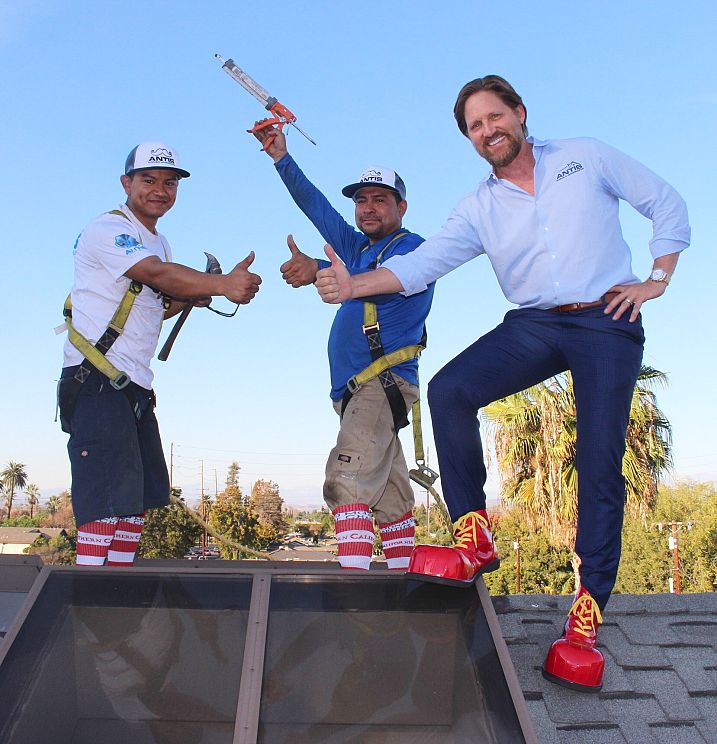 ANTIS ROOFING HONORS NRCA CELEBRATING ANNIVERSARY OF RONALD MCDONALD HOUSE PARTNERSHIP -- 165 Ronald McDonald Houses in U.S. adopted by members of the National Roofing Contractors Association
Irvine, CA. June 16, 2020 – On June 13, 2019, all 165 Ronald McDonald Houses were officially adopted in the United States by roofing professionals that are members of the National Roofing Contractors Association. This milestone concluded a campaign that was first proposed to the members in April 2017 by Charles Antis, Founder, and CEO of Antis Roofing & Waterproofing in Irvine, California, and then president of the NRCA, Bill Good. Good shares, "Philanthropy for Charles is not only his passion, but he's also built it into his business model."
Charles Antis had his first encounter with Ronald McDonald House Orange County in June 2014 when his twins were born prematurely at Mission Hospital. A simple granola bar at the Ronald McDonald Family Room in the hospital created an awakening he would later follow by becoming a board member and ultimately co-chair the capital campaign in 2019 and 2020 to expand the house. As part of his board service, he offered to maintain and care for the roof of the house. "My dad always taught me to show up and he taught me to always leave it better than you found it. It's important for me to be aligned with why we exist as a roofing company, so Antis exists to keep families safe and dry", shares Antis.
The first Ronald McDonald House roof give collaboration with Shell Roofing and CI Services occurred on July 19, 2017, at Camp Ronald McDonald For Good Times in Idyllwild, CA. "Charles had this vision, this passion for sharing this opportunity in the roofing industry. Charles shared his story, his excitement, his enthusiasm, and his passion were just extremely contagious….a match was lit and it took off!" shares Bennett Judson, NRCA Vice President.
Antis Roofing & Waterproofing actively volunteers with the Orange County Ronald McDonald House by hosting multiple Meals of Love for the residents each year at the Orange County, Inland Empire, San Diego & Los Angeles houses; supporting the Walk for Kids & Dusk at the Grove fundraisers and more. For more information about the campaign with the Roofing Alliance: https://www.antisroofing.com/nrca-podcast-extraordinary-industry-episode-2/
About Antis Roofing & Waterproofing
Founded in 1989, Antis Roofing and Waterproofing is a fully licensed, bonded and insured provider of roofing and waterproofing services for homeowner's associations and multi-tenant housing communities in Orange, San Diego, Los Angeles, Riverside, and San Bernardino Counties. Utilizing innovative technology, comprehensive photo-documentation systems, and the industry's most experienced technicians, Antis is one of the most trusted names in the roofing industry and a respected leader in community philanthropy.
For more information, visit www.antisroofing.com. For further information, please contact: Cori Vernam, Marketing Manager (949) 525-2263; email: [email protected]