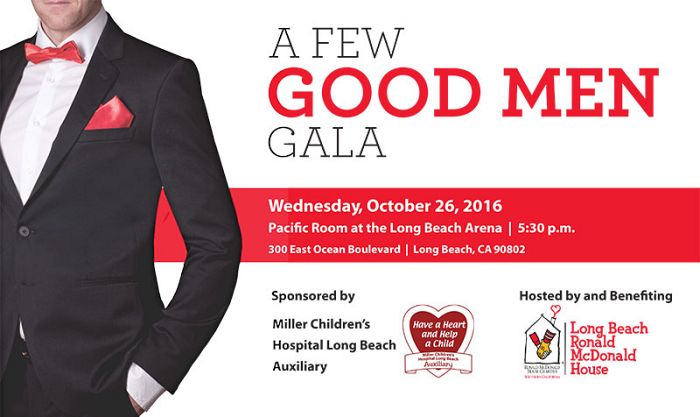 You are cordially invited to the 3rd Annual A Few Good Men Gala benefiting the Long Beach Ronald McDonald House and honoring esteemed gentlemen from throughout the region.
Sponsored by the Miller Children's Hospital Long Beach Auxiliary
Presented by the Don Temple Family Charitable Foundation.
Each distinguished Honoree has contributed generously to the communities they serve. Join us for a men's fashion show featuring these impressive "models," then take advantage of the opportunity to bid on a priceless and unique experience, personally designed by each Honoree. This is Long Beach's newest "can't miss" event!
CLASS OF 2016 HONOREES
Blake Christian
Charles Feder
Russ Hill
Matt Knabe
Rick Lorenzen
Jerry Maize
John Morris
Richard Neri
Vern Schooley
Kurt Schulzman
Dr. Grant Uba
** New ** Preview our 2016 Live Auction Booklet ** New **
Click to See Our Amazing Experiences Up for Bid
Men's fashion generously donated by Umberto International Clothier
Learn more about our Sponsorship Opportunities