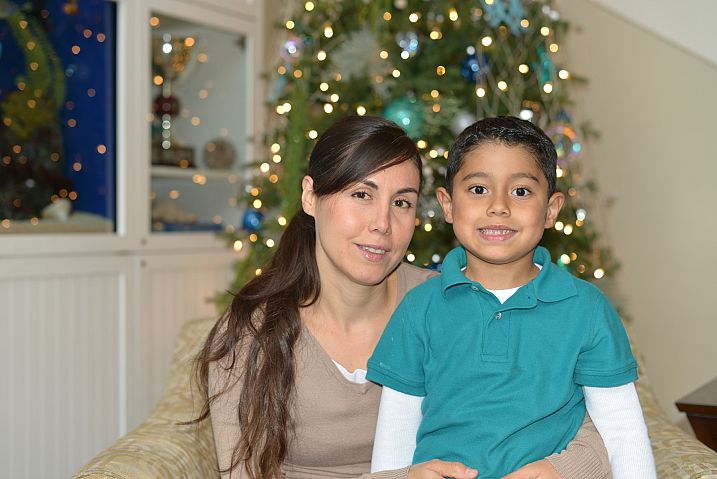 When Ian needed surgery for a tumor in his leg, his parents turned to a specialist in the United States and a "home away from home" in Long Beach.
Silvia Alvarez and David Alonso were ecstatic to learn they were pregnant with their first child—a boy named Ian. But their happiness quickly turned into fear when Ian's doctors informed them he had a life-threatening malignant tumor in his left leg.
"We were confronted with a difficult situation," Silvia remembers about that period in their lives. "He had chemotherapy for many months, and then doctors made the decision to amputate his left leg."
Silvia and David knew the surgery would be traumatic for their young son, but they were determined to give him the best possible care. It wasn't long before they were connected to the Orthopedic Institute for Children (OIC) in Los Angeles, a specialist in musculoskeletal disorders and state-of-the-art prosthetic devices not available in their home country of Mexico.
But as Silvia and David started navigating the lengthy process to get treatment for Ian in the United States, they began worrying about how they would afford such an extended stay so far from home. That's when a doctor at OIC suggested they look into the Long Beach Ronald McDonald House.
"Thanks to the Long Beach Ronald McDonald House, we have found a place to stay and a sense of security. Ian has been entertained by so many activities in the House—we have received incredible comfort and care," Silvia says.
Since arriving from Mexico, Ian has undergone amputation surgery at the OIC and been fitted with a custom prosthesis. Now he's going through physical and occupational therapies to re-learn how to walk, run, and enjoy all of the activities any five-year-old boy should be doing.
The Long Beach Ronald McDonald House has been their "home away from home" for Silvia and Ian during their time in the United States. Separated from their friends and family back home, Silvia and her son are surrounded by supportive staff, loving volunteers, and other guests who understand the enormous sacrifices required to care for a sick child.
Silvia and Ian will continue to receive treatment at the OIC as Ian grows up and requires new prostheses, and we look forward to welcoming them back into our Home each and every time!