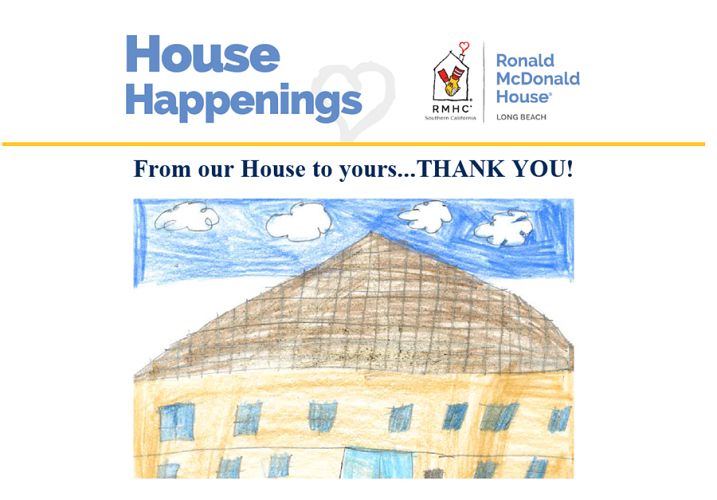 Ronald McDonald House Long Beach (LBRMH) - August 2022 House Happenings Newsletter
From our House to yours...THANK YOU!
When a child is sick, it affects the entire family. Families look for the best care possible – even if that means traveling far from home and spending weeks or months away to receive treatment. Families are stronger when they are together, and for children facing a serious medical crisis, nothing is scarier than possibly not having a mom, or a dad, or even siblings close by. Our House provides a place for families to call home so that they can remain close to their sick child and the care and resources they need.
None of these families would be able to as easily navigate the challenges of having a sick child and keeping their family together if it was not for the support of our community and supporters such as you. Thank you for helping us help kids. We want to join with the families who share their appreciation as Noelle did above, and say thank you for being part of making this House their home.
Join us for a night to remember!
Save the date for our 8th Annual A Few Good Men Gala!
You are cordially invited to the 8th Annual A Few Good Men Gala benefiting the Long Beach Ronald McDonald House. We hope you will join us as we honor the 2022 Class of esteemed gentlemen for all they have generously contributed to their communities!
Fill our hearts this August with a Feast from the Heart!

Providing a meal is an act of kindness that brings love into our House. 🍱❤️🏡

Please contact Volunteer Coordinator Kevin Bebe for more information.

We have been invited to be a participating charity for #longbeachgives!

Save the date (9/22/22) and hit the button below to learn more about the biggest day in Long Beach's giving history.
Can you help replenish some much-needed House supplies?
We are currently in need of the items below.
Please call the House at 562.285.4300 if you have any questions. THANK YOU for continuing to Help us help kids!
Windex
409 multi-purpose cleaner
Toilet bowl cleaner
Paper plates
13 gallon trash bags
6x6 square compostable take out containers