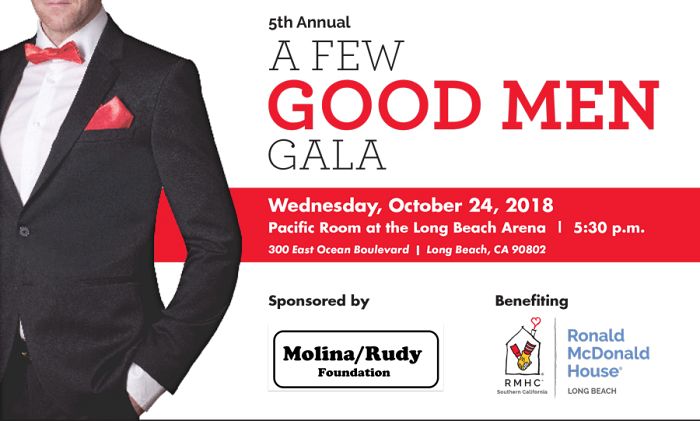 Hosted by and Benefiting the Long Beach Ronald McDonald House
5th Annual A Few Good Men Gala
Sponsored by The Molina / Rudy Charitable Foundation
You are cordially invited to the 5th Annual A Few Good Men Gala benefiting the Long Beach Ronald McDonald House and honoring esteemed gentlemen from throughout the region. Each distinguished Honoree has contributed generously to the communities he serves. Join us for a men's fashion show featuring these impressive "models," then take advantage of the opportunity to bid on a priceless and unique experience, personally designed by each Honoree.
Be prepared for a night to remember!
Presented by Miller Children's Hospital Long Beach Auxiliary.
Special thanks to our 5-Year Gala Anniversary Sponsor,
Don Temple Family Charitable Foundation
2018 Honoree Roster
David Benoit
Charlie Beirne
Jim Choura
Ryan Choura
John L. Di Carlo
Randy Gordon
Mark Guillen
Dan Munzer
Bill Rouse
Daryl Phillips
Ayal Willner, M.D.
For more information, please contact:
Michelle Taylor,
Special Events Manager
(562) 285-4308
mtaylor@rmhcsc.org