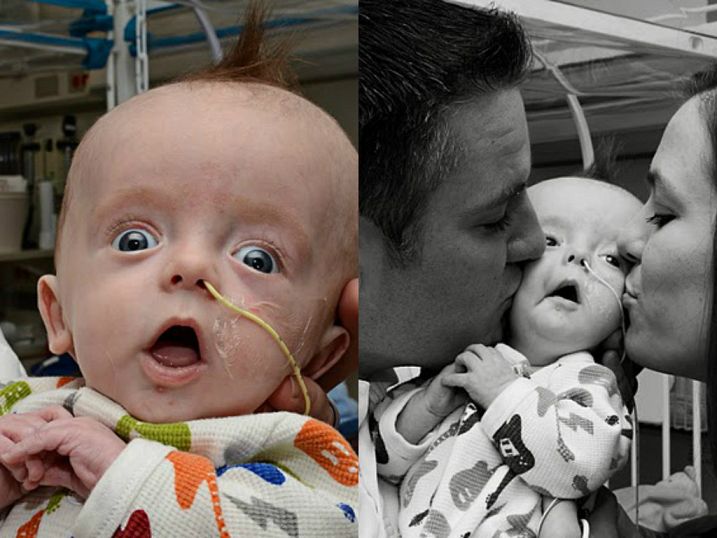 Carina and Michael have spent countless hours in the Ronald McDonald Family Room while their son Cayden has received treatment.
After a complicated pregnancy, Cayden was born premature at 34 weeks gestation on Christmas Day. He needed surgery to place a VP shunt just four days later to treat his congenital hydrocephalus, a condition where fluid builds up inside the skull. He has over 13 diagnoses, has had 26 surgeries, and has been under general anesthesia over 60 times. He's had too many tests, procedures, ER visits, and hospital stays to count. ​Through it all, he continues growing and learning. He is a happy, curious little boy who loves to flash a smile to everyone he meets.
Although Cayden's mom Carina, his dad Michael, and his big sister Makayla have all stayed at the Orange County Ronald McDonald House while he receives treatment, there have been times when the House just felt too far from the hospital and Cayden's bedside. When they stayed in the hospital, they used our Ronald McDonald Family Room so that they could remain close to Cayden. Carina shared, "We are so grateful for the Ronald McDonald Family Room at CHOC Children's. Its comfortable, home like environment is so welcoming when you've been sitting in a sterile room. The volunteers are always so helpful and sweet. And its location next to the ICU has allowed us to use it as a retreat when we need to think, talk, pray, cry, breathe, work or rest."
Our Ronald McDonald Family Room on the 6th floor of CHOC Children's hospital extends the services of the Orange County Ronald McDonald House. Parents whose children are receiving treatment in the Pediatric and Cardiovascular Intensive Care Units are able to take a moment away from the noise and frenetic energy of the hospital room to eat, take a shower, watch television, or just spend a few moments of quiet time alone. "While the hospital is providing for the child's needs, the Ronald McDonald Family Room volunteers provide for the family's needs," shared Carina. "They provide sponsored dinners once a week. For those of us who have extended stays, it not only helps out financially, but having a prepared and scheduled meal time really provides a breath of fresh air."