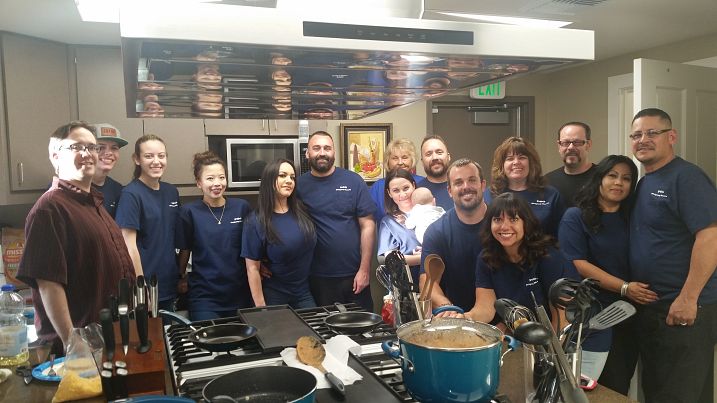 Recruit a group of friends, co-workers, or even your own family to join you in preparing a breakfast, lunch or dinner for the families staying at the Ronald McDonald House, Inland Empire.

Thank you for your interest in becoming involved! The support of volunteers is crucial for maintaining our programs and services.

Out of concern for the health and safety of our guests, staff, and volunteers, we are currently taking measures to restrict the number of outside visitors to our facilities.
If you would like to arrange the delivery of non-perishable food for our pantry, grocery gift cards or individually prepared meals for the families staying with us, please contact us for a list of local options.
If you or your group are interested in receiving information about future volunteer opportunities,
please email Albrena Ceroni, our Volunteer Manager
Get Involved

Thank
Meals of Love Guidelines:
All meals must be prepared and cooked on site.
Volunteers for the "Meals of Love" program must be 14 years of age or older.
We can only accommodate 16 volunteers at a time.
Plan to feed at least 100 people.
Do not bring any volunteers who are suffering from a cold, flu or any other contagious illness.
Once you have picked a Meal of Love date on our calendar, you must be confirmed by the Volunteer Coordinator, and you will receive special instructions on how to register your group via email.

The House provides standard cooking utensils, and pots and pans. Plastic utensil are available but Meal Groups are encouraged to bring sturdy paper plates to serve on.
All volunteers are required to be fully vaccinated and have their updated boosters shots.
If you are interested in preparing a Meal of Love for our families please click the Blue Meals of Love button below.
Confection Connection – Bakers of Love
The Ronald McDonald House, Inland Empire uses VolunteerHub to manage our volunteer needs. This will require that you establish a username and password to register as a volunteer.