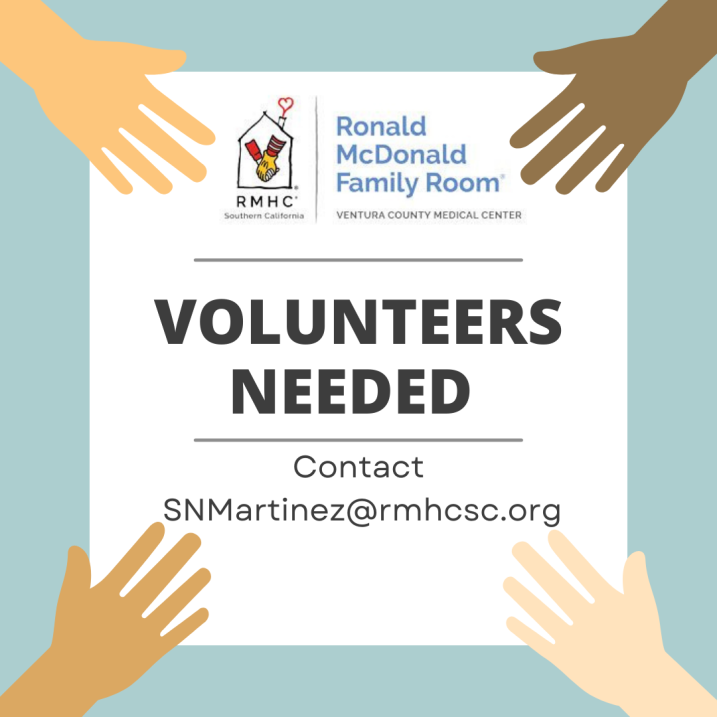 Thank you for your interest in volunteering at the Ventura Ronald McDonald Family Room in the Ventura County Medical Center! The support of volunteers is crucial for maintaining our programs and services.
Contact Samantha Martinez, Volunteer Coordinator, at [email protected] and/or Scarlett Sabin, Interim Family Room Director, at [email protected] or 661-900-8995 for more information.
We need a team of dedicated volunteers to open our doors, so come join us in the mission to provide parents and caregivers a calming environment away from the stress of watching their children fight for their life.
● Walk for Kids is a fun, family-friendly event that will help us raise funds and awareness for the new Ronald McDonald Family Room at Ventura County Medical Center.
● We are looking for volunteers to help at our 2022 Ventura Walk for Kids, taking place Sunday, April 24th at San Buenaventura State Beach. All of the proceeds from this event will support the development and operation of the new Ventura Family Room.
For volunteer opportunities, or to learn more about Walk for Kids, please contact Debbie Martin at [email protected].