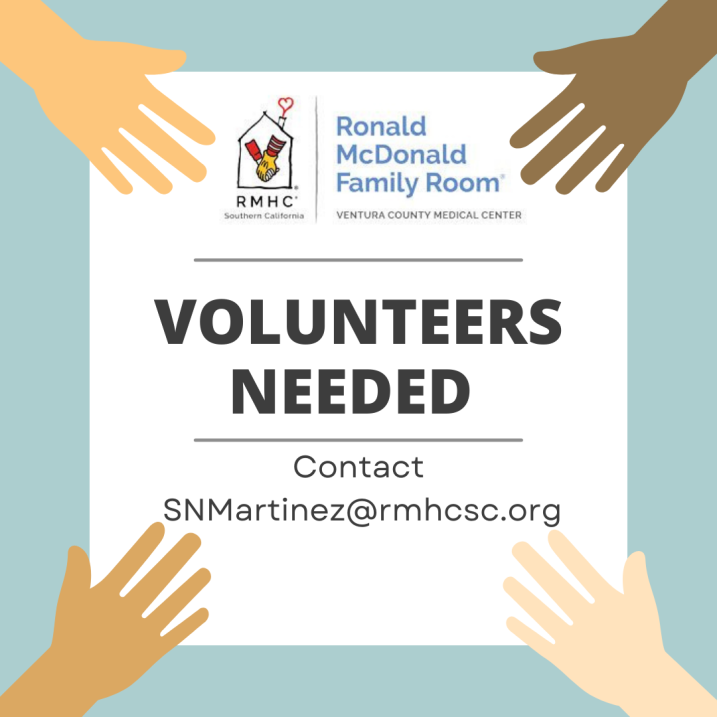 Thank you for your interest in volunteering at the Ventura Ronald McDonald Family Room in the Ventura County Medical Center! The support of volunteers is crucial for maintaining our programs and services.
Contact Jacquelyn Gargano, Family Room Manager, at [email protected] or 805-652-5968 for more information.
Thank you so much for your interest in volunteering in the Ronald McDonald Family Room at Ventura County Medical Center. The Ronald McDonald Family Room is a special place where parents can find a place of comfort and respite within a hectic hospital, all while knowing their child is just steps away. Our room has amenities such as a kitchenette, a family lounging area with television, seating alcoves, work spaces, a children's play area, and laundry facilities.
We will be servicing the families of the children being treated steps away in the Pediatrics and Neonatal Intensive Care units. Your main responsibilities will be greeting and assisting families while they are in the room, light cleaning and organizing, and simple record keeping.
As we are located in the Ventura County Medical Center, all volunteers must meet their eligibility standards and onboarding requirements listed below:
Application
TB test (provided by VCMC)
Current COVID-19 vaccination & boosters
Flu shot
Background check
Healthicity training
It's important to maintain familiarity and confidence with our hospital partner. In effort to maintain consistency, we require one, 4-hour shift per week for a minimum of 6 months
You can reach out to the RMFR manager for a copy of the application [email protected]
RMHC Ventura also needs volunteers for special events and activities that do not occur on the hospital campus. If you are interested in being an offsite volunteer please specify when submitting your application.
Our walk for kids will be taking place on March 19th, 2023 at San Buenaventura beach. We will need a large team of volunteers to facilitate this event. If you are interested in WALK for kids volunteer please specify