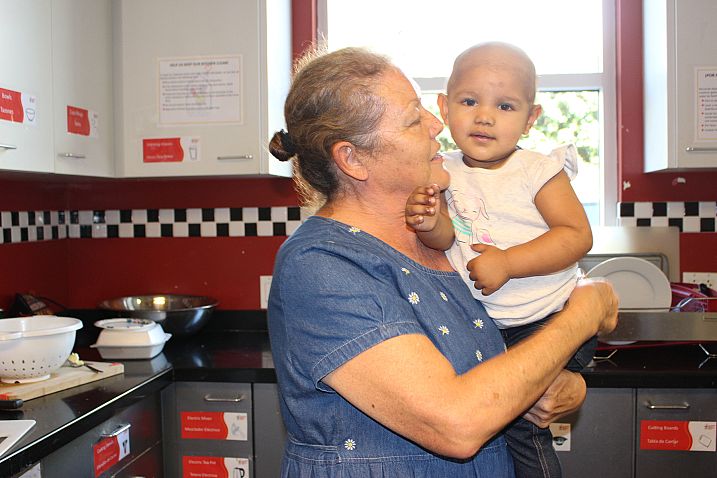 Grandma Marcela keeps her granddaughter happy, and her family close, in the kitchen of the Los Angeles Ronald McDonald House.
Grandma Marcela loves to chat while preparing food for her family and guests. Stirring a large pot of ground beef and bright vegetables in the kitchen of the Los Angeles Ronald McDonald House, Marcela reminisces about living — and cooking — all over the world. Over the past two months, she's settled into the kitchen at the Los Angeles Ronald McDonald House while her 18 month-old granddaughter, Isabella, undergoes chemotherapy at a nearby hospital. "I do this for her," Marcela says as the little girl wanders in and out of the kitchen. "I do this for her."
Marcela grew up in Guadalajara, Mexico, where she learned to cook using ingredients from the region's rich culinary tradition. But her cooking chops really took off when she met her husband, a Filipino native and U.S. Navy Officer, who often cooked for his fellow officers on the ship. When they moved back to his home country for three years, Marcela learned to love and master the native cuisine of the Philippines.
Back in the kitchen of the Los Angeles Ronald McDonald House, Marcela is preparing a staple of Filipino cuisine, and one of Isabella's favorite snacks: lumpias. She adds a big handful of crisp bean sprouts to s simmering mix of ground beef, carrots, onions, and garlic, then adds a splash of chicken stock. While Marcela fills another pot with vegetable oil, Isabella's other grandmother carefully separates a stack of paper-thin rice wraps that she lays out on a plate.
Marcela pauses to pick up Isabella when the little girl runs back into the kitchen for a hug from grandma.
The little girl is responding well to her chemotherapy. She's strong and active, and she flashes a big smile to everyone she meets. Every Friday, Isabella's father drives down from Bakersfield to stay with the rest of the family. Marcela says the doctors are impressed with Isabella's progress…and her appetite. "Every morning, she eats two fried eggs and hash-browns. Sometimes more," Marcela says with a smile.
Marcela folds each wrap around a heaping spoonful of meat and vegetables, seals the corners with an egg wash, and drops the rolls into the pot of oil. In less than a minute, she lifts the crispy, golden lumpias out of the pot and arranges them on a plate to cool. When the lumpias are ready, Marcela fills a small bowl with banana dipping sauce and offers the food to her guests. The rolls are warm and crunchy, the savory filling moist and delicious — the perfect comfort food and impossible to put down.
Marcela says that before Isabella got sick, she didn't know anything about the Ronald McDonald House. Now she doesn't know what her family would do with it. By the end of their first week, she says, everyone in the House had become like a second family.
Marcela plans to come back once her granddaughter's treatment is complete — to help out or cook for the other families staying in the House. And she says she will never visit a McDonald's restaurant without leaving a little something in the Donation Box. Marcela puts down her spatula and looks around at the friends and family gathered around the dining room. "Thank you to McDonald's," she says. "Thank you to the Los Angeles Ronald McDonald House."
To see more picture of Marcela and Isabella, and to read the recipe for Marcela's lumpias, follow us on Facebook and Instagram.