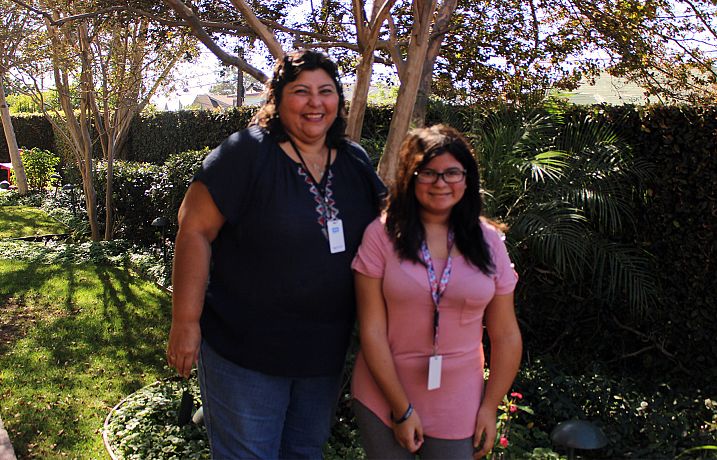 Savina and her teenage daughter Shakti bring the flavors of home with them when they're staying at the Los Angeles Ronald McDonald House.
Savina and her daughter are no strangers to the kitchen at the Los Angeles Ronald McDonald House. For the past six years, they've been coming here so Shakti — a bright and engaging tenth-grader — can see doctors at Shriner's Hospital for a disorder that causes frequent bone fractures.
Savina and Shakti look at ease standing in the big, light-filled kitchen. They both smile at the familiar faces coming in and out of the room. It's lunchtime, and Savina is making one of Shakti's favorites — chipotle meatballs in a spicy tomato broth over rice.
She starts by chopping a few roma tomatoes, which she adds to a blender with water, seasoning, and a small can of chipotle peppers. She blends it to a liquid and pours it into a pot to boil. At the same time, she seasons a big bowl of ground beef with salt, pepper, garlic powder, and Yucatán oregano. She adds a handful of uncooked white rice and starts shaping the ingredients into small meatballs.
As a young girl, Savina watched her mother and grandmother make dozens of dishes from memory. No recipes, just years of practice and good instincts. They showed her how to taste everything and adjust as she cooks. It's a lesson she's applied in the kitchen…and in life.
Shakti's condition has been an ongoing battle for her and for her mom. Over the years, Shakti has endured more than 30 fractures and 11 operations. This time, they're at the House while she recovers from back surgery. Plans for her next surgery, and for their next stay in the Los Angles Ronald McDonald House, are already underway.
Savina gently drops each meatball into the deep-red liquid bubbling on the stove. As the meatballs cook, she and her daughter talk about their lives back in Cancun. Shakti's favorite subject is Chemistry, but she says she dreads the piles of homework waiting for her back home in Cancun, Mexico. Her Quinceañera is right around the corner. Priority number one? Deciding what to cook for more than 200 family and friends!
Savina ladles a drizzle of sauce into the palm of her hand and takes a sip. She passes around spoons and urges everyone to taste. When she's satisfied they're done, Savina scoops the meatballs out of the pot and adds them to a bowl filled with the rich, chipotle-flavored broth. The dish is hearty and flavorful — the perfect lunch for a fall day in Southern California. It tastes like it was made by a chef with an expert hand. It tastes like home.
Savina sits down and talks about what the Los Angeles Ronald McDonald House has meant to her family. She says hows grateful she is to have a roof over their heads, a kitchen to cook in. And she loves the incredible meals prepared daily by groups of volunteers. Savina chats with some of the other guests gathering in the kitchen. All of them, she says, are like family.