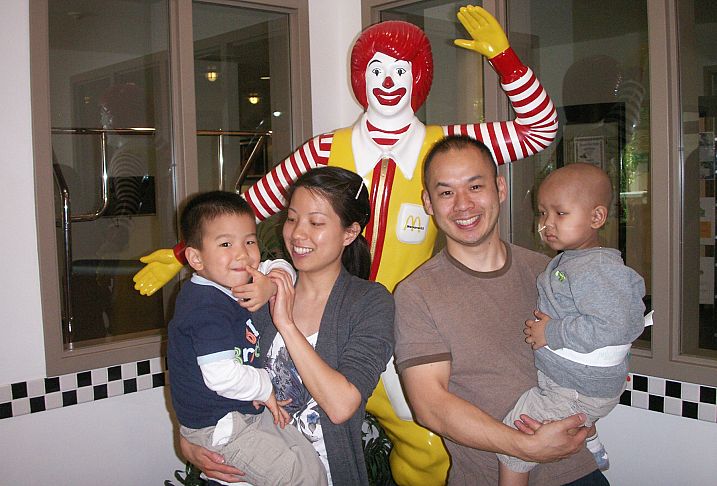 Wayne and Fanny stayed at the Los Angeles Ronald McDonald House while their son was being treated for cancer.
Wayne and Fanny Woo were planning their first family vacation in 2009. Donnie was almost two years old and Edmond was eight months old. Wayne noticed that Edmond's eyes didn't look right. Their local pediatrician told them that everything was normal, but Wayne and Fanny were convinced there was a problem and took Edmond to a specialist. Their fear was confirmed. Edmond was diagnosed with retinoblastoma, a tumor in his eye. They quickly packed up their car and drove from Las Vegas to LA to see a specialist at Childrens Hospital Los Angeles (CHLA).
Doctors at CHLA informed them that Edmond had tumors in both of his eyes, and chemotherapy would last for six months. Every four weeks, they would drive to Los Angeles for two days of chemo, each time staying at the Los Angeles Ronald McDonald House. At the end of the six months, Edmond was then given a month of radiation and was cleared to go home. About six months later, Edmond started to act odd. He couldn't climb up on his bed and constantly wanted to be held. The Woo's went to the emergency room in Las Vegas and were told that a new cancer had developed in his brain and spread to the spinal area. Edmond was given a 40% chance of survival.
The family returned to CHLA for six more months of chemo. The goal was to bring his immune system to zero and then do a stem cell transplant harvested from his own body. It was critical to Edmond's health that the entire family stay healthy. The Woo's found great comfort in knowing that the House understood the importance of keeping public spaces clean.
Edmond finished his treatment and it looks like they got the cancer. Vision in one eye is fine, and they are uncertain about the other. He will need radiation and physiotherapy to regain his ability to walk. Wayne was able to take a leave of absence from his job, but they still have their home in Las Vegas with a mortgage. "Since Donnie is not allowed in the hospital, the House gives us a safe place for him to play," shared Wayne. "Having a kitchen is also important as it means that we could cook our own meals and know they are healthy and clean." For the next year, Edmond will need to be isolated from others and will return to the House every month for tests. This is a stressful time for the family, but Wayne states, "It gives us great comfort in knowing that we have a home when we come back to LA."
For information on how you can help the LA Ronald McDonald House provide families of critically ill children with accommodations and support services, please call us at 323-644-3000.