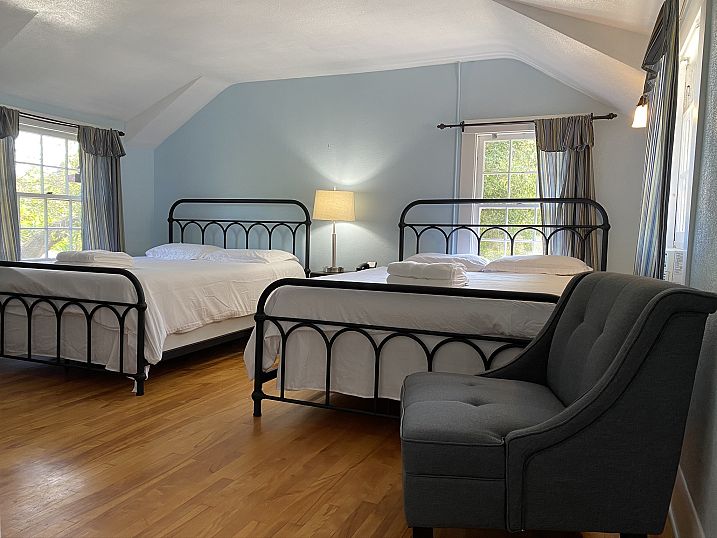 In consideration of the extra precautions needed to maintain a safe environment for our guests and employees, the House is currently open with limited occupancy. We are closely monitoring the situation to ensure the steps we take to address COVID-19 are in the best interest of the families we serve. We will continue to follow the guidance and recommendations of the Centers for Disease Control and Prevention, California Department of Public Health, World Health Organization, and our local partner medical centers as we navigate this situation.
Due to limited space and increasing need, first priority is given to families of children in the most critical conditions. Patients must be 21 years old or younger.
Guest requirements include:
No current drug/alcohol abuse, conviction relating to domestic violence, open cases with the Department of Children & Family Services
Free from any infectious disease
Parent/guardian must be 18+
Requested room contribution of $25/night, but no family is turned away due to an inability to pay
All accompanying adults must present valid, non-expired photo identification
Close proximity to Huntington Hospital, City of Hope, and Shriners for Children Medical Center means that the majority of our families are served at one of these partner facilities, although we do accept families from other area hospitals such as USC Verdugo, CHLA, LAC+USC Medical Center, and Kaiser Sunset.

Please consult with your child's medical team if you would like to stay at Ronald McDonald House Pasadena. Families must be referred by a social worker, physician, or nurse by submitting a Room Request Form.

---------------------------------------------------------------------------
SPANISH
Solicitar una Habitación
En consideración a las precauciónes adicionales necesarias para mantener un ambiente seguro para nuestros huéspedes y empleados, la casa está abierta con ocupación limitada. Estamos siguiendo de cerca la situación para asegurarnos que los pasos que tomamos contra COVID-19 sean en el interés de las familias que servimos. Continuaremos siguiendo la guía y recomendaciones del Centros para el Control y Prevención de Enfermedades, el Departamento de Salud Pública de California, la Organización Mundial de Salud, y nuestros socios locales.
Debido al espacio limitado y la aumentada necesidad, se da prioridad a las familias de niños con condiciones más críticas. Los pacientes deben tener 21 años o menos.
Los requisitos incluyen:
No debe haber abuso de drogas/alcohol, condena relacionada con violencia doméstica, o casos abiertos con el Departamento de Servicios para Niños y Familias.
Libre de cualquier enfermedad infecciosa
Padre/guardián debe tener 18+
Pedimos una contribución de $25/noche, pero ninguna familia es rechazada debido a la incapacidad de pagar
Todos los adultos acompañantes deben presentar una identificación válida, identificación con foto no vencida.
Cerca del Hospital Huntington, City of Hope, y Shriners for Children Medical Center significa que la mayoría de nuestras familias vienen de estos socios médicos, aunque también aceptamos familias de otros centros médicos en el área como USC Verdugo, CHLA, LAC USC Medical Center y Kaiser Sunset.
Consulte con el equipo médico de su hijo si desea alojarse en Casa Ronald McDonald de Pasadena. Las familias deben ser referidas por un trabajador social, medico, o enfermera mediante la presentación de una solicitud de recamara.