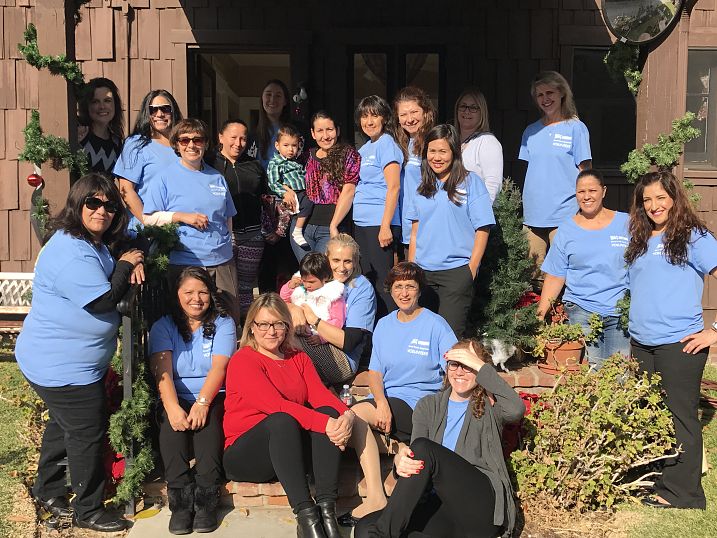 Your group can support the children and families of The Pasadena Ronald McDonald House by volunteering your time.
Group Volunteers consist of groups of friends, families, civic or religious groups, scout troops, employees, and youth groups, and lead an array of activities for the families of the Pasadena House. Volunteering groups provide families with an opportunity of respite during a highly stressful time. Groups play an enormous part in our House's success.
Here are just some of the ways your group can contribute:
Baking cookies or other sweet treats
Collect Pull Tabs and Pennies with Purpose
Conduct a Wishlist drive to collect donations such as canned food, cleaning supplies, office supplies, or toys
Donate holiday gifts
Make a Donation
Prepare a Meal of Love - The meals vary in type (BBQ'S, catered, pancake breakfast, ethnic, etc.)
Special Events – including Walk for Kids, Yard Sale, and Fall Gala
Day of Service
Here is a sample list of tasks that you and your group may do at the House:
Administrative work
Doing crafts with the children who are at the House
Light housekeeping – inside and outside
Making new guest bags for our rooms
Organizing donations
Watering our plants and garden
Wiping down our outside furniture and toy chest
Yard cleanup and weeding, and cleaning and filling our birdbaths
If you are interested in getting involved or would like to know more, please click on the Get Involved button. We look forward to speaking with you!
Meal of Love
The meals you provide bring love into the House, allowing families to unwind, de-stress, and fortify their bodies to be at their best for their child in the hospital. Groups choose a menu, purchase the ingredients, and prepare the meal in our full-service kitchen, allowing families to find nourishment and comfort in a shared meal. Dinner is served daily at 6:00 pm.
Qualifications: Show off your creativity and cooking skills (or just practice!). We supply the kitchen and equipment, your group just needs to bring the ingredients. All food must be prepared and cooked on site or brought directly from a commercial retail kitchen.
Location: Pasadena Ronald McDonald House
Wish List Drive
Help support the families of the House by soliciting items that we are constantly in need of around the House. Imagine all the household items around your house, we need that times 12! Items needed include canned food, cleaning supplies, office supplies, or toys. This is great for those who need last minute school hours, Scout Troops, School clubs, Community Service Groups, Mom groups, etc.!
Qualifications: Simply collect the items from our wish list and drop them off at the House from 9:00 am to 9:00 pm. Please see our "Wish List" webpage for our current needs
Location: Around your community
Commitment: Flexible
Minimum Age: All ages!
Pull Tab Collection
Pull tabs remind us of an important lesson: even little things make a big difference. Pull tabs helps us pay the bills so moms and dads need not worry about where they will stay while their children are in the hospital. Start a pull tab program and count to a million!
Qualifications: Ask your friends at school, Boy Scouts and Girl Scouts, youth groups, sports teams, neighbors, relatives and co-workers to help save tons of tabs. From pre-school to grandparents, anyone can get in on the action!
Location: Around your community
Commitment: Flexible
Minimum Age: All ages!
We look forward to working with you and discovering the best way to put your talents to use. Please be aware that we do have age requirements for some of our volunteer opportunities.
The Ronald McDonald House, Pasadena uses VolunteerHub to manage our volunteer needs. This will require that you establish a username and password to register as a volunteer.