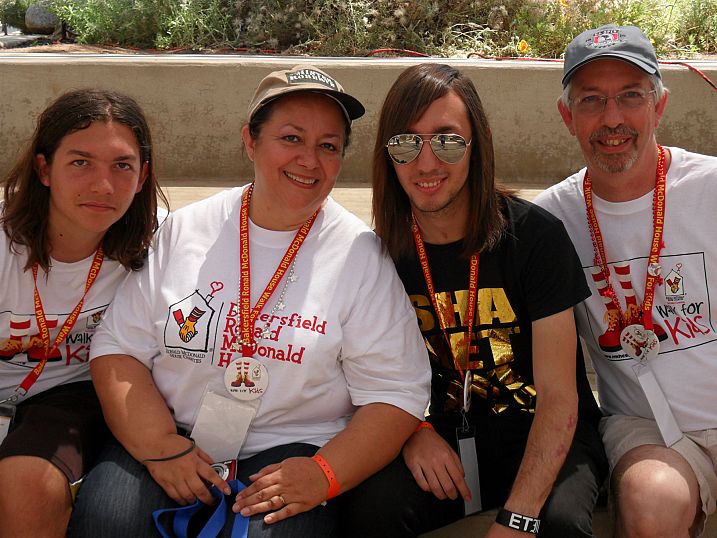 The Buxbaum family stayed at the Bakersfield Ronald McDonald House for 28 days after their son Michael was in an accident.
A letter from Joyce and Mark Buxbaum
On this swiftly spinning planet angels abound...they reside in the Bakersfield Ronald McDonald House. Scarlett Sabin, Cris Jacobs, Michael Thoms, Sabrina Stotling, and volunteer Barbara are unforgettable, selfless angels that provided a haven for us during one of the most difficult times of our lives.
We live in San Diego and on September 13, 2009, we received word that our son Michael's tour bus was struck just past the Grapevine, sending all six band members to three area hospitals. Arriving at KMC in Bakersfield at 11:00pm, we found our son in a coma with a grim prognosis.
On the third day, Angel Scarlett appeared in the ICU. She was full of warmth. With a bag of "provisions" in tow, she explained to us that a band member's family was at the Pasadena Ronald McDonald House and told her about the others at KMC. She invited us to stay at a haven of comfort and support. So began our stay at the Bakersfield Ronald McDonald House. Angel Sabrina welcomed us with a wonderful, compassion filled smile. In a short period of time she made us feel comfortable. Angel Michael, a quiet and comforting soul, was so accommodating. He would go about his daily routines but was always attentive to our needs. Angel Cris was filled with laughter and light...never intrusive but always available when needed. She found ways to find humor in little things. Every morning volunteer Angel Barbara provided small talk and encouragement.
When Michael was well enough to be transported home, it was bittersweet, for we would have to leave our new friends. Our stay was 28 days. The Bakersfield Ronald McDonald House provided us a home complete with a warm and loving family of angels. If other Ronald McDonald Houses were even a quarter of how great the staff at the Bakersfield Ronald McDonald House is, they would be fortunate indeed.
Very sincerely yours,
Joyce and Mark Buxbaum