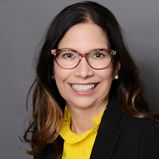 Scarlett Sabin
House Director
Scarlett has been living in Bakersfield for over 35 years and loves the Midwestern feel of this community! She started her non-profit career in 1995 and has never looked back. Scarlett worked for the American Cancer Society Discovery Shop for almost three years and then became the Executive Director of the American Heart Association where she worked until December 2008 when she left to open the Bakersfield Ronald McDonald House. The last 14 years has been the best 14 years of her life! Scarlett attended Bakersfield College and University of Phoenix. She has Bachelors of Science in Business with a minor in communications and a Masters in Business Administration.
Scarlett has a son Matthew who graduated from the University of Le Harve with a degree in International Economics. Matthew and his girlfriend will be moving to Paris in August to attend graduate school and pursue a masters in communications. He is 21 years old and is the light of her life. With Matthew living abroad Scarlett likes to travel to see him and her foreign exchange student daughter Claudia in Spain. In addition to working and traveling Scarlett enjoys her boot camp a few times a week and spending time with her friends. Scarlett has a dog a once feral Wheaton Terrier. Three years ago Scarlett found love a second time around with her high school sweetheart from Ohio. The long distance relationship is hard but works!
Scarlett is a member of Junior League of Bakersfield, East Bakersfield Rotary Club and The Plank Foundation.