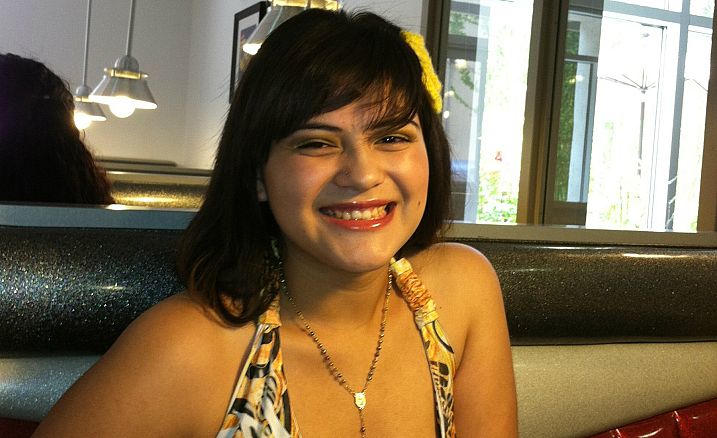 Franya Marquez is a beautiful, intelligent, optimistic, 16-year-old teenager living at the Los Angeles Ronald McDonald House.
Franya was just three years old when she fell into a pot of scolding hot water and severely burned her back. She expects to live at the Los Angeles Ronald McDonald House three to four months while they stretch her skin to replace the damaged skin on her back. She is always upbeat with a friendly face to support our newer families as they arrive. Franya is lucky to have a very close and supportive family. She is at the House with her mother while her father is back in Phoenix caring for her brother and sister.
A typical 16 year old, Franya is very computer savvy, and communicates everyday with her father and siblings via Skype. She takes classes through the hospital and does her homework online. Franya is a popular girl and has many friends and is very busy keeping in touch with everyone. Like so many teenagers, Franya uses Facebook's instant messaging to keep up with her friends back in Phoenix. Staying in touch with her family and friends is crucial for Franya as it brings a sense of normalcy to her life.
The Los Angeles Ronald McDonald House has a computer room with eight computers, all free of charge and available to our families 24/7. Since the House has free wireless internet, Franya uses her iPad to stay in contact with her family and friends when she is not in the computer room. There are a couple of teenagers at the Los Angeles Ronald McDonald House that Franya has become good friends with, and she also finds pleasure in talking to the adults and younger children. Franya and her mother have become close friends with the other families staying at the House.
Franya never complains and said that she never cries, even when she was injured 13 years ago. "The hardest thing is being away from my home for so long," shared Franya. "My home in Phoenix is also always full of friends. I know I'm lucky to have such good friends. I don't get bored and there are always a lot of activities at the Los Angeles Ronald McDonald House. Being able to stay in close touch with my family and friends has been great."
For information on how you can help the Los Angeles Ronald McDonald House provide families of critically ill children with lodging and support programs, please call us at 323-644-3000.