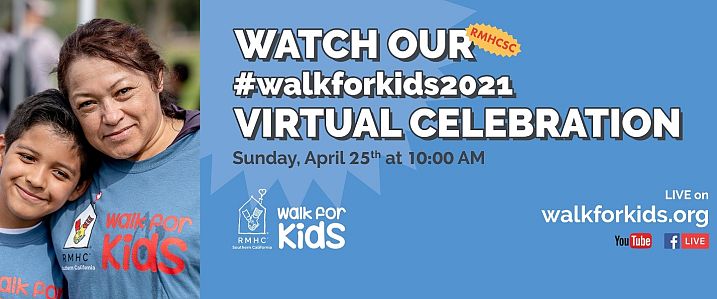 The Walk goes virtual for the second year to help keep families with hospitalized children together and near the comfort, care and critical resources they need
The annual Walk for Kids held by the Ronald McDonald House Charities® of Southern California (RMHCSC) is going virtual again this year to allow participants to come together safely from wherever they are to support critically ill children and their families. This year's Walk for Kids will be re-envisioned to adapt to today's reality, engaging more than 9,000 participants in interactive activities and challenges that will culminate in a virtual celebration on Sunday, April 25, 2021. Through the fundraiser, the Ronald McDonald House Charities® of Southern California is aiming to raise $2.4 Millon goal to support families who must travel outside their communities to access medical treatment for their critically ill children at local hospitals.
RMHCSC programs help more than 5,000 families every year who are caring for a child with a serious medical condition. The support of the community gives them hope, strength, and courage when they need it most. RMHCSC relies on our generous community of support to provide comfort and care to kids and families in Southern California. Together, we create a community where children and their families embrace life and healing with a sense of hope, enthusiasm, courage, and joy.
Supporters are invited to start or join a team or donate directly by visiting walkforkids.org. Southern California McDonald's customers can also participate by visiting any local McDonald's restaurants and donating $1, $2, or $3 at the register, and/or rounding up their total order to the nearest dollar with the difference going directly to RMHCSC. Fundraising ends April 25 with a closing celebration that will include live and pre-recorded segments of walker success stories, sweepstakes, VIP events, and much more. All proceeds benefit Ronald McDonald Charities of Southern California, providing comfort, care, and support to children and families in their time of need.
ABOUT RONALD MCDONALD HOUSE CHARITIES OF SOUTHERN CALIFORNIA
For more than 40 years, Ronald McDonald House Charities of Southern California (RMHCSC) has helped families with ill or injured children stay together, and close to the medical care their child needs through its six Ronald McDonald Houses® in Bakersfield, Loma Linda, Long Beach, Los Angeles, Orange, and Pasadena. A program of RMHCSC, the Ronald McDonald Family Rooms® in CHOC at Orange and CHOC at Mission, as well as two more rooms set to open in Ventura County Medical Center and UCLA/Mattel Children's Hospital, offer a place for family members to rest, shower and recharge inside the hospital while being steps away from their hospitalized child. RMHCSC programs not only provide access to quality health care, they enable family-centered care ensuring families are fully supported and actively involved in their children's care.