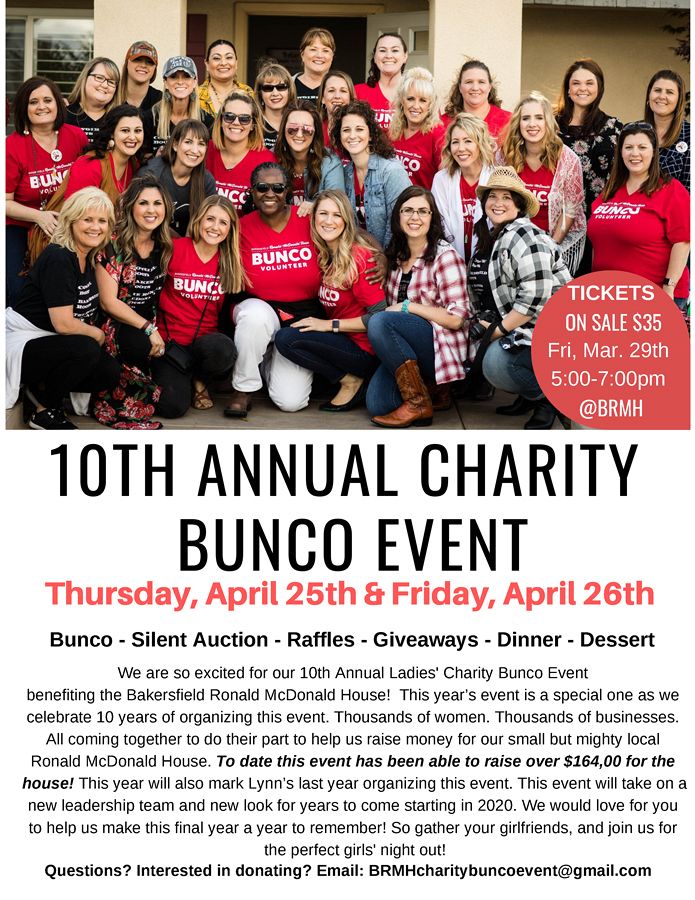 Join us for our 10th Annual Charity Bunco Event benefiting our local Bakersfield Ronald McDonald House!
This year marks a huge milestone for our team as we celebrate 10 years of raising money for the BRMH! This year is also bittersweet as this will be Lynn Bradshaw's last year organizing this event. Not too worry, a new leadership team will be stepping up in 2020! You will see some changes, but still the same goal of raising money for our local Ronald McDonald House that helps keep families close to their critically ill child in the hospital. So as one chapter closes with this event, and a new one begins. Lynn and her team want to go out with a bang for the BRMH and celebrate ALL of the hundreds of businesses, women, and volunteers that have been a part of this event over the years! To date through this event Lynn and her team have been able to raise over $164,000 for the BRMH! Every penny of that stays here locally. Our goal for this year is to raise $36,000 to close out this incredible journey, which would give a grand total of $200,000 to the house! We can't wait to see what God has in store this year either way!
If you have never been to this event before, it is the perfect Girls' Night Out, that truly makes a huge impact right here in our community! We have 2 nights to choose from: Thursday, April 25th and/or Friday, April 26th. Both nights are mirrored the same.
Tickets will be available Friday, March 29th from 5:00-7: 00 pm in front of the Bakersfield Ronald McDonald House. Just like previous years, we offer our tickets for a $35.00 donation to the house one night only. Any tickets that are still remaining after that evening, will be given with a $45.00 donation. Cash, checks (payable to: BRMH) and credit cards will be accepted. We have also been known to sell out in these two hours so start talking with your girls now and get someone to go down and purchase all of your tickets on March 29th!
We are anticipating this year's event to be a high attendance!
Our Event also Includes:
Red Carpet Photos, Raffle Prizes, Silent Auction, Dinner and Dessert (which is included with ticket- Taco Bar is back!), crazy fun Bunco, Gift Cards and prize Give-a-ways throughout the evening. Every attendee will also receive a special goody bag as a thank you from businesses who help support our event. And really, it's just a whole lot of fun!
100% of our proceeds from our event goes straight to our local Bakersfield Ronald McDonald House. We hope you and your friends will join us for this wonderful cause!
*If you would like to help sponsor or donate through our event (or for any questions) you can message or email us at: [email protected]
***Those who want to donate to our raffle or silent auction that donate a value over $100 can receive (1) free ticket to our event as a Thank you! Message us to learn more.