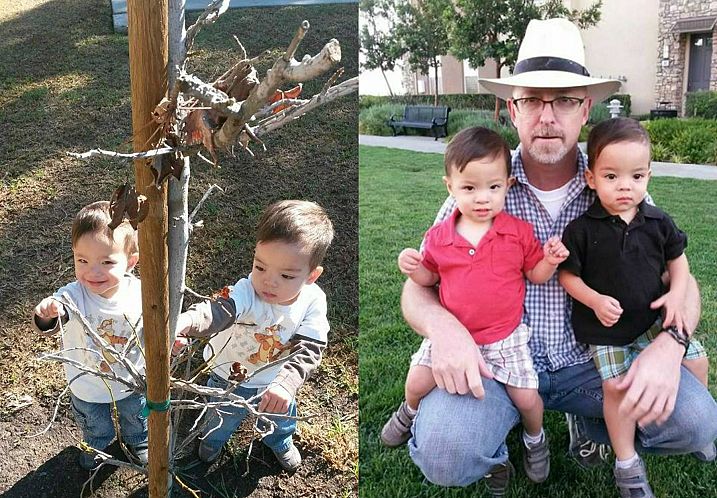 Connie and Larry got much needed support from the Ronald McDonald Family Room while their twin boys fought to survive in the NICU.
Home on bed rest while pregnant with twins, Connie McKenney's water broke at 26 weeks. After four days of bed rest in Mission Hospital's Maternity Unit, she went into full labor. Charles and Edgar were born on January 7th, 2013 at 26.5 weeks gestation. The boys were moved upstairs to the NICU at CHOC Children's at Mission Hospital.
Connie developed sepsis and was unable to see the boys after delivery. Because she couldn't go into the NICU with her infection, the nurses went upstairs to the NICU and used FaceTime on their iPhones with Charles and Edgar so Connie could see them while she was recuperating downstairs on the 2nd floor. This way, Connie was able to talk to her babies and tell them she loved them.
Connie was discharged and sent home, but she then developed a secondary infection that got her readmitted to the hospital. That very same day, baby Edgar had to be moved to CHOC Children's in Orange because he had developed a hole in his intestines and needed surgery. Connie's husband, Larry, went with Edgar to CHOC at Orange and was able to hold him prior to surgery to repair the hole in his intestines, while Connie was still being treated at Mission Hospital. After a week in the hospital for her secondary infection, Connie was discharged. She was unable to drive and found herself pumping breast milk every two hours. Her mom came to the rescue and drove her between both hospitals so Connie could deliver her breast milk and spend time with her sons. Connie and Larry were traveling between both hospitals for four weeks!
At this point, Connie and Larry asked the doctors if Edgar could be moved back to CHOC Children's at Mission Hospital. They were both completely exhausted and the drive was getting to be too much. The doctors approved the move and the boys were reunited in the NICU at CHOC Children's at Mission.
Connie and Larry were regular visitors to the Ronald McDonald Family Room at CHOC Children's at Mission Hospital. Larry spent hours there and got to know the volunteer staff well. Larry was a rock through all of the challenges his wife and babies faced. No one would have known the roller-coaster they'd been on, or how hard this had been on Larry. He was amazing.
Connie said the Family Room offered material comforts, which were nice to have, since she was so physically tired and mentally exhausted from worry and fear. But more than that, the Ronald McDonald Family Room offered a place of community. She said she never felt isolated. She could leave the NICU the Ronald McDonald Family Room was a short walk down the hall, where she could rest and never feel alone. She felt the support of our donors as if they were an invisible web of support and there in spirit. She and Larry are so grateful they didn't have to fight this battle by themselves, and that people cared enough to create the Family Room as a safe space for them.
After 100 days the boys were discharged from the NICU and were able to go home! Charles is now walking. He is not talking yet, but has learned sign language! He is a fun, inquisitive little boy. Edgar is not yet walking, but is fast on all fours! He is happy and thriving. Both Charles and Edgar attend ten appointments a week for occupational therapy, physical therapy, and speech therapy, which will most likely continue until they are in preschool.