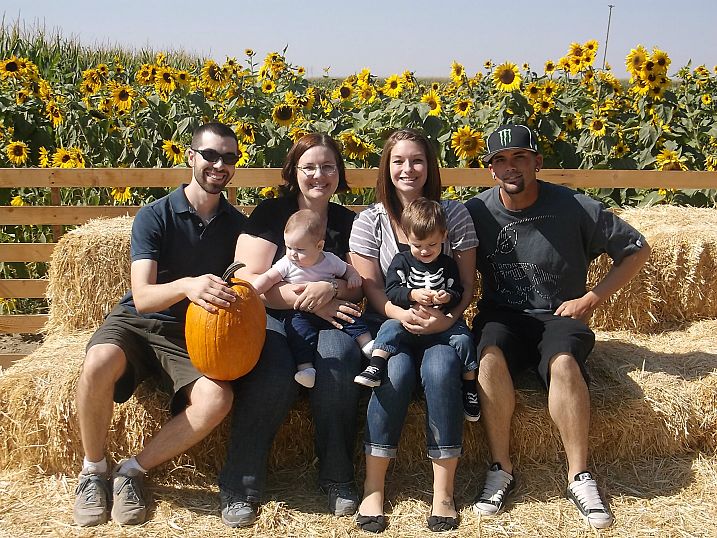 After their son had to stay in the hospital unexpectedly following his birth, the Sanderson Family got support at the Bakersfield Ronald McDonald House.
A letter from Autumn Sanderson
One of the most exciting days of my life was finding out my husband and I were expecting. We could not wait to tell all of our family and friends. The first day we heard the heartbeat was such a wonderful day; knowing I had this little baby growing in my belly and hearing the heartbeat was a beautiful moment. Finally, the day came and we got to have our first ultrasound. We couldn't believe how much the baby was moving, rolling around, and kicking, and then we found out we were having a little boy, Our Talen. We couldn't help but think what his little face would look like. Would he have my eyes? We couldn't wait to meet him.
Every week went by so fast and my belly just kept getting bigger. Talen was growing, and we loved to lay on the couch and feel him kick. As our due date got closer, we started to get our hospital bag packed. We picked out Talen's coming home outfit. We tried to think of everything we would need without over packing, which is something I like to do. We had a induction date set if our little man didn't make his arrival before then. When I finally started to have contractions I was in denial. I was scared, nervous, and excited all in one, and it was the best feeling that we were finally going to hold our son. I went in to the hospital on Mother's Day, the day before my scheduled induction, and it was time. After 22 hours of labor our Talen was born. He was 7 pounds, 11 ounces, and 21 inches of perfect. He looked just like his daddy with a full head of hair. After my golden hour with my son, we made our way to recovery. Friends and family were there waiting to see and hold Talen. Everything seemed perfect.
After two days and lots of feeding, we noticed he had only pooped once, so nurses started doing bloodwork. The pediatrician came in and tried explaining to us that Talen had jaundice due to a blood incompatability with me called hyperbilirubinemia. My husband and I looked at each other so confused. Of course we had heard of jaundice, and everybody wanted to reassure this was normal and clears up quickly. Wednesday morning the pediatrician came in and told us our son needed to go to be NICU to go on a biliblanket. I couldn't believe it. I had to be discharged without my son. You watch baby shows and hear friends and family talk about birth stories and don't expect to be much different, But one thing I never expected was for my son to have to be in the NICU. I immediately cried and was very scared. I didn't not want to leave my son.
I was already talking about getting a hotel when a social worker came in and began to explain that we could stay at the Ronald McDonald House on the hospital grounds. I was still in shock and just wanted to be with my baby. When she started to explain how close this House was and all the wonderful things they provide for families like us, my husband and I were so relieved. We followed our son to the NICU, trying to hold back tears.They soon started to do bloodwork, hook up IVs, turn on a biliblanket, and hook up heart monitors. That was heartbreaking, seeing Talen all hooked up and looking so helpless and turning more and more yellow.
It took us a while to finally leave and make our way to the Ronald McDonald House. We walked in this adorable House and they started explaining the rules, and showed us our room. I was so excited to have this House available to us and be so close to our son. We started to settle into our room and get some food. I just sat down looking around wondering how we had gotten to this point. I thought we would be home. We started to meet other families staying there. That's when we met Jill and David. We soon started to tell our story and listened to their story. It was so nice to talk to another family that understood how we felt and what we were going through. At that time, we were so confused and felt like nobody would understand how we felt. Days and nights were a blur, but we loved seeing them and hearing about their daughter Lucy no matter what time it was. Having another family to talk to really helped us. Even though their stay ended not the way we wanted, we are so blessed to have meet them. Now almost 8 months later they still remain in our lives. We try to visit with each other as often as we can and stay in touch. They truly are amazing people and amazing friends. We never thought that so many good things could come out of our situation, but we met some amazing people staying at the Ronald McDonald House that will always be family to us.