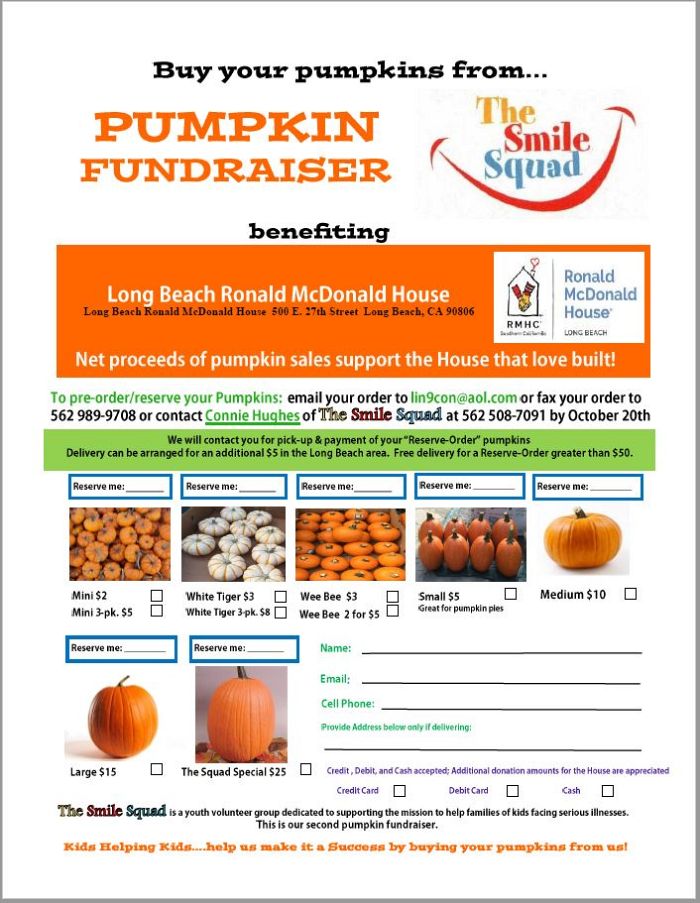 Buy your pumpkins from the Long Beach Smile Squad
A Pumpkin Fundraiser Benefiting Long Beach Ronald McDonald House
Net proceeds of all pumpkin sales support the House that the love in Long Beach built
To pre-order/reserve your Pumpkins:
email your order to lin9con@aol.com
fax your order to 562 989-9708
Contact Connie Hughes of The Smile Squad at 562 508-7091
BEFORE OCTOBER 20TH
We will contact you for pick-up & payment of your "Reserve-Order" pumpkins.
Delivery can be arranged for an additional $5 in the Long Beach area.
Free delivery for a Reserve-Order greater than $50.
Mini
Mini $2 ea.
Mini 3-pk. $5
White Tiger
White Tiger $3 ea.
White Tiger 3-pk. $8
Wee Bee
Wee Bee $3
Wee Bee 2 for $5
Standard Pumpkins
Small $5
Medium $10
Large $15
The Squad Special $25
Additional donation amounts for the House are always appreciated
The Smile Squad is a youth volunteer group dedicated to supporting the mission to help families of kids facing serious illnesses. This is our second pumpkin fundraiser.
Kids Helping Kids....help us make it a Success by buying your pumpkins from us!