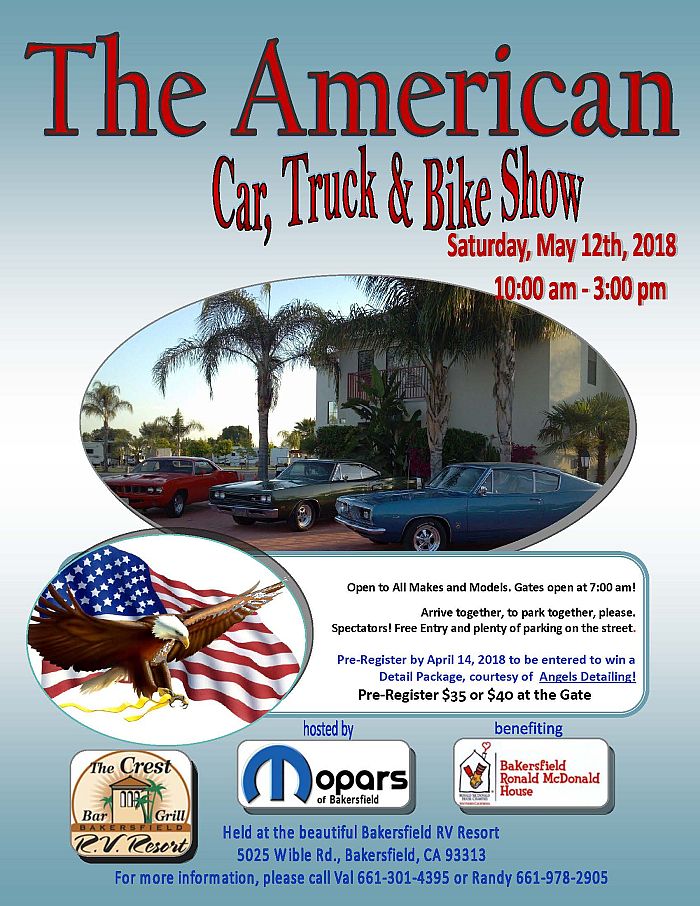 The American Car, Truck & Bike Show-2018
Free Spectator Admission!!
Enjoy a day of food, fun, and Beautiful Vintage & Late Model Hot Rods, on the lush grounds of the Bakersfield RV Resort. We will host activities, a 50/50 Drawing and Raffle Drawings throughout the day. Breakfast & Lunch are available at "The Crest" Restaurant, located on the grounds. Bring the family and enjoy the venue!
2018 Show Classes
Bike
Camaro
Classic Truck
Corvette
Ford
GM
Import
Modern Truck
Modern Mopar
Muscle Car
Mustang
New Challenger
Pro Street
Race Car
Special Interest
Street Rod
Studebaker
Tri-5 Chevy
Under Construction
Vintage Mopar
VW
Additional classes may be opened with 5 Pre-entries. Must be entered by 4/7/18 to order trophies
Peoples Choice Judging! All judging will be by Car Show Participants Only. Please be sure to complete your Ballots!
All Canopies must be secured.
Eagle Trophies
Best Paint
Best Engine
Best Interior
Club Participation
Bakersfield Ronald McDonald House Favorite Best in Show
Car Show Entry
$35 advanced
$40 after April 14

Please fill out form and mail completed application & make the check to:
Mopars of Bakersfield
PO Box 5425
Bakersfield, CA 93388-5425
Interested in Being an Event Sponsor